Delegates to the 56th LCMS North Dakota District convention, meeting Jan. 22-25 in Grand Forks, N.D., re-elected on the first ballot the Rev. Dr. James A. Baneck, 50, of Mandan to his second three-year term as district president.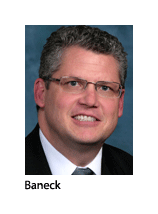 North Dakota is the first of the 35 LCMS districts to hold their triennial conventions this year. The Central Illinois District is scheduled to hold the final 2012 district convention July 8-10 in Springfield, Ill.

Delegates to the North Dakota convention also elected two regional vice-presidents — the Rev. Arie D. Bertsch, first vice-president, for the district's East Region; and the Rev. Clark H. Jahnke, second vice-president, West Region. Bertsch, who was previously the district's second vice-president, is pastor of St. Paul Lutheran Church, Minot; and Jahnke — a new vice-president — is pastor of St. Andrew Lutheran Church, West Fargo.

In one significant action of the convention, delegates adopted by a 53-to-47 percent margin a resolution that calls for a change to policy-based governance for the district.

They also voted in favor of maintaining a grass-roots ministry among district congregations through catechesis and acts of Christian mercy, as well as outreach to North Dakota's Native American population.

Among other actions, delegates adopted a resolution affirming continuation of support for ongoing ministry in Kenya. They voted to formalize a partnership with the Evangelical Lutheran Church of Kenya and to work with the LCMS Minnesota North District in providing funds to build three orphanages in Kenya.

Synod President Rev. Dr. Matthew C. Harrison was guest preacher for the convention's opening worship service.

The North Dakota district convention also was the first to experience a new video from Harrison's office titled "Witness, Mercy, Life Together: Blessings — Challenges — Opportunities." To be shown at each district convention, that video highlights what God is doing through the LCMS — via congregations, districts and the ministries based at the International Center in St. Louis — told through the lens of the church body's "Witness, Mercy, Life Together" emphasis.

Reporter plans to include follow-up stories on all 35 LCMS district conventions this year, based on information from the districts.

For a chronological listing of those conventions, click here.
Posted Jan. 25, 2012