With Dr. Bruce Hartung
Q: Jeffrey Means in his book Trauma and Evil describes silence as a form of evil. Evil! Our silence in speaking out against evil can be considered a sin of omission when our voices need to be heard. When we do not need to be heard (gossip, breaking the Eighth Commandment, etc.), then silence is godly. In respect to spiritual warfare, Satan prefers our silence, but God calls us to be light in the darkness.
In this past year alone I have learned of three brother pastors being caught in sexual misconduct of one form or another and subsequently (and appropriately) removed from [the] roster. In hearing about these brothers, I have become more aware of my own vulnerability. I realize there are not simply deep spiritual issues involved here, but in fact deep spiritual battles being waged against us by Satan himself. I can tell you that I have been Satan's target more during my ministry than in the years before. At least it seems that way. To retreat from speaking out against Satan and his minions would allow us to enjoy our proverbial ignorant bliss. To speak out against Satan puts us even more in the line of fire. I choose to speak and pray for God's kingdom to come. So, please pray for us as I write this and as we speak out and deal with this reality.
I remember one of our professors … at seminary told our graduating class that "if any of you think you are impervious to sexual misconduct, then you do not understand the nature of spiritual warfare."
Could you please elaborate on the reality of this spiritual battle and other spiritual battles?
A: Your reference to my pastoral counselor colleague Jeff Mean's book, Trauma and Evil, is a valued reference. I hope that many visitors to this column will have an opportunity to read it.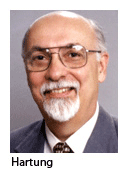 Your raising the question and issue of spiritual warfare is extremely crucial and therefore very important. It suggests that we focus on issues of living as not just being at a horizontal level — issues relating to humankind. It also suggests that we see in our living and in our struggles a more spiritual and cosmic implication. In that way, I think you are on target.
You are also on target when you see this as part of spiritual warfare, a term that Lutherans have not traditionally used. I hope we learn to use it! There is a battle involved. St. Paul is quite clear on this point: "For we do not wrestle against flesh and blood, but against the rulers, against the authorities, against the cosmic powers over this present darkness, against the spiritual forces of evil in the heavenly places" (Eph. 6:12, ESV).
At the same time that the battle rages, we do have weaponry and support. Returning to Ephesians 6: "Finally, be strong in the Lord and in the strength of His might. Put on the whole armor of God, that you may be able to stand against the schemes of the devil" (Eph. 6:10-11, ESV).
Clothed with the righteousness of Christ and His truth, our feet ready for Christ's peace, shielded with faith bestowed by the Holy Spirit and holding the Word of God, we enter this warfare. I encourage you to read Eph. 6:10-20 in its entirety.
All this time we hold fast to the promise: "No, in all these things we are more than conquerors through Him who loved us. For I am sure that neither death nor life, nor angels nor rulers, nor things present nor things to come, nor powers, nor height nor depth, nor anything else in all creation, will be able to separate us from the love of Christ Jesus our Lord" (Rom. 8:37-39, ESV).
Given the view pictured by St. Paul and your thoughts about it, I hope to devote the next column or two specifically to this topic. Readers are encouraged to contribute.
In the meantime, you and those close to you are indeed in my prayers. Thanks for your courage to speak about these things.
The Rev. Bruce M. Hartung, Ph.D., is associate dean of Ministerial Formation and director of the M.Div./Alternate Route programs at Concordia Seminary, St. Louis, and can be reached at hartungb@csl.edu.
Posted Jan. 26, 2012