By Sarah Schafer

LCMS districts are beginning to assess damages and identify needs caused by Hurricane Sandy Oct. 29 along the Eastern Seaboard. As of Oct. 30, no deaths among LCMS members had been reported, and it was not yet known how m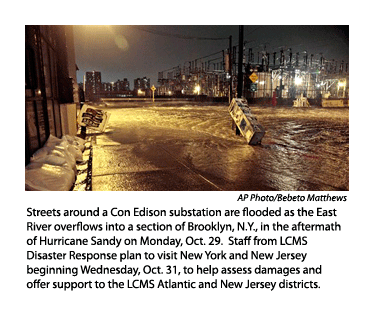 any members have damages.

The Rev. Glenn F. Merritt, director of LCMS Disaster Response, plans to visit New York and New Jersey beginning Wednesday, Oct. 31, to help assess damages and offer support to the Atlantic and New Jersey districts. Merritt said he expects to do the same in the Southeastern District early the week of Nov. 4.

"LCMS Disaster Response offers technical assistance with action planning, as well as financial and material assistance for transitional housing [and] replacement of personal items such as clothing, food, medicine and furniture" through the distribution of gift cards, Merritt said. "In this way, immediate needs can be addressed while those affected wait for decisions from FEMA and insurance providers." (To hear a KFUO-AM Radio interview with Merritt, click here and then on "Rev. Glenn Merritt interview about LCMS response to Hurricane Sandy" on left.)
In the Atlantic District, which includes the eastern half of New York, District President Rev. Dr. David Benke reported that power, cable and "most everything else" is out in New York City. "The New York Metropolitan region is basically shut down in terms of transit, roads, schools and work today [Oct. 30], with the worst of it in lower Manhattan and along all coasts," he said.

The Rev. Derek Lecakes, the district's disaster coordinator, is organizing efforts Oct. 30 and 31 to determine the safety of church workers and members, and to identify damages to homes, property, churches and schools. Benke said he will share specific needs for prayer and assistance as he becomes aware of them.

At Concordia College–New York in Bronxville, N.Y., Paul Schulz, who oversees support services, said the campus has been without power since 6 p.m. Monday and it was not expected to be restored for days. Generators are operating in the dining hall and to provide power to computers and phones. The college has been closed since Monday and Schulz said he expects it to remain closed all week.

A large branch fell through a dormitory roof at the college and most of the shingles were blown off the roof of the Conservatory building, according to Schulz. "We have a lot of cleanup of branches and debris to do," he said.

In the New Jersey District, Disaster Response Coordinator Rev. Don Brand said he did not have much success contacting congregations the morning of Oct. 30, but he attributed that difficulty to widespread power outages.

Grace Lutheran Church in Union, N.J., where Brand serves as pastor, lost electricity at 8:30 p.m. Monday, and a large tree fell against the church building but did not cause damage.

Brand and the Rev. Michael Dunne, pastor of St. Thomas Lutheran Church in Manalapan, N.J., plan to continue to try to reach pastors in the district to identify damages and needs. Pastors and members are being encouraged to post updates on the district's Facebook page.

One casualty of the storm was the district's cancelled Fall Pastors Conference, which was scheduled for Oct. 29-31 in Hawley, Pa.

The Southeastern District (SED) offices in Alexandria, Va., remained closed Oct. 30 for the second day. As of that morning, the district — which includes most of Maryland; Washington, D.C.; Delaware; Virginia; North Carolina; South Carolina; and York County, Pa. — had received no reports of damages.

However, "the news is reporting considerable power outages, downed trees and, of course, communities near water with significant challenge," said Deaconess Sally J. Hiller, the SED's executive director for Congregational Outreach and District Operations.

On Monday, SED President Rev. John Denninger called on circuit counselors to check in with their congregations.

Hiller and Deaconess Liz DeMik, SED recovery assistant, are monitoring the district's email and Facebook page to determine how the district may assist congregations and members.

New England District President Rev. Tim Yeadon reported from Massachusetts Oct. 30 that "half a million residences in Connecticut are without power, all highways are closed and the state basically is shut down." Although he was still waiting for damage-assessment reports from some of the district's circuit counselors, Yeadon said "the northern states of the New England District seem to have made out pretty well — praise God!," with trees down and power outages but nothing more serious. "The worst-hit areas in New England seem to be Connecticut and Rhode Island, especially along the shoreline," he said. The district also includes Maine, Vermont and New Hampshire.
LCMS Disaster Response, drawing on lessons learned from the Hurricane Katrina disaster in Louisiana and Mississippi, anticipates growing demand for assistance from the church, according to Mark Hofman, executive director for mission advancement.

"Congregations and individuals whose property was damaged by flooding, and who do not have flood insurance, are one example," Hofman said. "Because of power outages, water damage and the storm's impact on mass transit, some people will be financially challenged to replace spoiled food and prescription medications. Others will look to congregations for help with their essential transportation needs. We will be drawn in to help coordinate short-term or transitional housing, especially in situations where personal security has been affected."

The LCMS is accepting and encouraging donations to help those affected.

"The situation on the East Coast is more than a hurricane event," said Hofman. "People have been hit by fire, flooding rain, strong winds and heavy snow. Gifts to support a broad disaster-response effort will be needed today, tomorrow and well into the future as the specifics of our service come into sharper focus. Our Synod will be in this one for the long haul."

In addition to Reporter Online, continuing updates about the Synod's response to Hurricane Sandy will be posted on the LCMS website at www.lcms.org, Twitter (www.twitter.com/thelcms), the LCMS Facebook page (www.facebook.com/thelcms) and the Mercy Forever blog (http://mercyforever.lcms.org).

To help those affected by the storm:
make an online gift (click here).
mail checks payable to "The Lutheran Church–Missouri Synod" (with a memo line or note designating "LCMS Disaster Relief — Hurricane") to The Lutheran Church–Missouri Synod, P.O. Box 66861, St. Louis, MO 63166-6861.
call toll-free 888-930-4438.
Sarah Schafer is a freelance writer based in Fairfax, Va., and a member of Prince of Peace Lutheran Church, Springfield, Va.
Posted Oct. 30, 2012