Materials designed to help LCMS schools celebrate "National Lutheran Schools Week" Jan. 27-Feb. 2 are available free online.

The materials are based on the theme, "Baptized for This Moment," from Acts 2:38-39, the same theme as the one chosen for the 2013 LCMS national conventi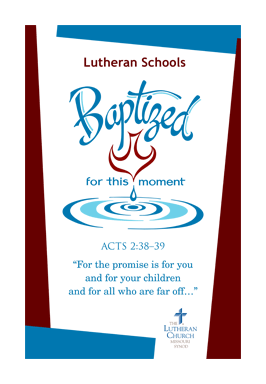 on. And, in conjunction with the upcoming convention, National Lutheran Schools Week organizers are asking students, educators, staff and families of LCMS schools to "tell us in a video" what the theme "means to you."

A panel of judges will select some of the videos to show at the LCMS convention, July 20-25 in St. Louis.
Also, each school may submit a baptismal banner — made during the Schools Week celebration — for display at the LCMS convention. Details for submitting the banners are included in the online resources.

William D. Cochran, director of School Ministry for the Synod's Office of National Mission, told Reporter he is "excited about the materials that have been produced for National Lutheran Schools Week [NLSW], Jan. 27-Feb. 2, 2013.

"The theme for this year helps Lutheran schools connect with the 2013 Synod convention," Cochran said. "It is my hope and desire that NLSW will help promote a celebration and awareness of Baptism."

Available resources include daily devotions for students and faculty, two sermons, a poster, coloring pages, T-shirt designs, banner instructions, and a flier and "FAQs" about submitting a video for use during the LCMS national convention.

For more information and to download the free resources, visit www.lcms.org/lutheranschoolsweek.
Posted Oct. 29, 2012 / Updated Oct. 30, 2012