By Kim Plummer Krull
Strong backs and arms plus volunteers with carpentry and electrical skills are much needed to help put the "hope" in Hope Village, the volunteer center that opens April 1 at Our Savior Lutheran Church, Minot, N.D., to assist families whose homes were flooded nearly a year ago.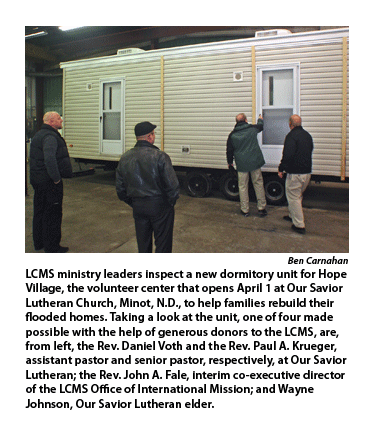 Most of the more than 4,100 families whose homes were severely damaged in last spring's historic Souris River floods are still trying to clean out, sanitize and rebuild their homes, according to the Rev. Daniel Voth, Our Savior's assistant pastor.
"Just last week, I saw a family get into their home for the first time since the flood," Voth said in a telephone interview. "There are a lot of needs."
To lend a hand, the LCMS recently provided another $100,000 grant for development of the village. To date, the LCMS has contributed, with the help of generous donors, $574,200 for flood relief and recovery in North Dakota.
"Hope Village is truly giving hope to the people of Minot," said the Rev. Glenn F. Merritt, director of LCMS Disaster Response, after returning from a Feb. 28-29 trek to Minot to meet with Our Savior leaders.
Also taking part in the meetings were the Rev. John A. Fale, interim co-executive director with the LCMS Office of International Mission, the Rev. Dr. Edward O. Grimenstein, manager, LCMS Disaster Response, and the Rev. Dr. James A. Baneck, president of the LCMS North Dakota District.
Both volunteers and financial support are critical for Hope Village to help Minot families hit hard by an unexpected financial blow.
"Most of the people I've spoken with indicated they had no flood insurance because they didn't think it was necessary," Merritt said. "Without the assistance of volunteers to help with rebuilding and the continued help of donations, people are not going to be able to recover. As the level of support offered by FEMA and insurance companies becomes clear, many families are realizing that their total loss will not be covered. Many are left with the dilemma of trying to get loans but realizing they will still be short of the amount needed to repair their homes."
Flooded-out families include many LCMS members. Nearly 300 families from three LCMS congregations — including Our Savior as well as St. Mark and St. Paul — and the Dakota Boys and Girls Ranch, an LCMS Recognized Service Organization (RSO), are among the thousands hit by the devastation.
New bunk units made possible by the Synod have arrived in Minot, along with housing units from Orphan Grain Train (OGT), an LCMS RSO in Norfolk, Neb. OGT also provided a mobile kitchen and shower units for Hope Village.
The volunteer center will be fully equipped for some 200 volunteers a day and is being set up according to North Dakota safety codes, Voth said.
Volunteers with basic carpentry and sheetrock skills are urgently needed to get the ball rolling, said the Rev. Paul A. Krueger, Our Savior Lutheran senior pastor.
Electricians, in particular, will be much appreciated. "This could almost be classified as a desperate need, because everything hinges on having the electrical work done first," Krueger said in an email. "Special provisions have been made with the state of North Dakota to honor electrical licenses from other states in the disaster rebuild."
In the midst of opportunities for hard work, Hope Village will include a pastoral-care component as an integral part of Our Savior's ministry. Pastoral care will be provided for volunteers at the beginning and close of each day.
Our Savior has expressed interest in calling a pastor who will be primarily responsible for training spiritual caregivers to accompany volunteers and make pastoral-care visits with families assisted by Hope Village.
"We want to help homeowners with more than just our hands," Voth said.
Following the pastoral leadership of Pastors Krueger and Voth, Fale said, "Our Savior Lutheran is doing exactly what a Lutheran congregation lives to do — show mercy and compassion to those in need while caring for their souls through pastoral care that is firmly grounded in Word and sacrament ministry."
To learn more or register as a volunteer, visit the Hope Village website www.hopevillagend.org or the Our Savior Lutheran website www.oslcnow.com.
A special incentive grant for flood relief will match gifts, dollar for dollar, made to LCMS Disaster Response, as an opportunity to help families displaced by the North Dakota flood and others hit hard by future disasters. When fully subscribed, gifts and the incentive grant will provide up to $200,000 for flood-relief work.
To make a gift to help the Synod continue to assist with flood recovery efforts:
mail checks (noting "Flood Relief" in the memo line) to The Lutheran Church–Missouri Synod, P.O. Box 66861, St. Louis, MO 63166-6861.
call toll-free 888-930-4438.
make an online donation at www.lcms.org/disaster/flood.
Any funds not needed for this relief effort will be used for other disaster purposes as determined by LCMS Disaster Response personnel. Your gift is tax-deductible to the extent permitted by law.
Kim Plummer Krull is a freelance writer and a member of St. Paul's Lutheran Church, Des Peres, Mo.
Posted March 15, 2012