A new LCMS unit, the Mercy Operations Group, was launched July 1 to integrate the Synod's work of mercy with its Witness and Life Together program ministries in the Offices of National and International Mission.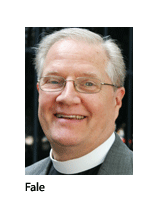 According to its mission statement, the Mercy Operations Group "in coordination with the Offices of International and National Mission plans, executes, and synchronizes mercy activities in order to enhance LCMS global (national and international) care for Lutheran partners and Ôneighbors in need."
Leading the new effort as associate executive director is the Rev. John Fale, former interim co-executive director of the Synod's Office of International Mission (OIM).
In his new role, Fale coordinates domestic and international mercy strategy, planning, program ministry — including Disaster Response, Life Ministries, Health Ministries, Deaconess Ministries, Church and Community Engagement, Specialized Pastoral Ministry and Ministry to the Armed Forces — and Grants Administration with the executive directors of the OIM and the Office of National Mission.
Prior to his post with the OIM, which he began serving as part of the LCMS reorganization that was mandated by the 2010 LCMS convention, Fale had served since 2005 as associate executive director of LCMS World Relief and Human Care, and since 2003 as director of LCMS Specialized Pastoral Ministry.
LCMS Chief Mission Officer Rev. Gregory K. Williamson said Fale is "well-qualified to provide expert advice" regarding the Synod's mercy ministries to the National and International Mission leaders and in coordinating the activities of Mercy Operations Group staff.
Rather than recreate these same functions in both of the Synod's two mission offices — "which would not be very efficient and not be good stewardship of what we have," notes Williamson — the Mercy Operations Group provides similar functions for both national and international arenas, with Fale serving as liaison. "I'm very pleased with how both National and International Mission are working together and sharing these very valuable resources," Williamson said. "It's a very cooperative and well-coordinated activity."
Posted Aug. 3, 2012