Delegates to the 47th convention of the LCMS Oklahoma District re-elected the Rev. Barrie E. Henke to his second term as district president. The convention gathered April 20-21 at the National Center for Employee Development (NCED) in Norman, Okla.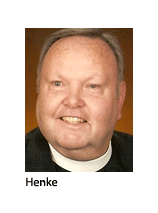 Henke was elected on the first ballot. In addition to his duties as district president, he continues to serve as the senior pastor of Holy Trinity Lutheran Church in Edmond.
The Rev. Myles R. Schultz was re-elected to his second term as first vice-president and will serve as the regional vice-president for the Eastern Region. Schultz also is pastor of Trinity Lutheran Church in Okmulgee.
Nominations for the district president and first vice-president come from district congregations. The second and third vice-presidents were elected in caucuses by the regions in which they reside and then ranked by the convention.
The Rev. David R. Nehrenz, pastor of Trinity Lutheran Church, Norman, was elected by the Central Region and ranked by the convention as second vice-president. The Rev. Gregory W. Brown, pastor of Trinity, Woodward, was elected by the Western Region and ranked as third vice-president. This is Nehrenz's second term as second vice-president and Brown's first election.
Synod President Rev. Dr. Matthew C. Harrison, installed Henke into office at the close of the convention. Henke then installed the other officers.
The convention theme, "Mercy, Witness and Life Together in Oklahoma and Beyond," was adapted from Harrison's emphasis of "Witness, Mercy, Life Together" to reach out to the world with the Good News of Jesus Christ. In his sermon at the opening service, Harrison noted that the convention logo, which had an image of the state of Oklahoma, reminded him of a pointing finger. He said the pointing finger reminds Lutherans to go be witnesses, do acts of mercy and live life together as people redeemed by Christ.
The convention adopted a district handbook that involved several years of preparation. In 2006 the 45th convention charged the district president to form a committee and present a handbook for consideration at the 46th convention. That convention, in 2009, adopted it as "a work in progress" and charged the president to appoint a committee to prepare it for submission to the LCMS Commission on Constitutional Matters (CCM) for review. That committee worked with the CCM and, after several reviews and revisions, it was approved by the CCM in February.
In addition to the handbook, delegates adopted several resolutions with some to be forwarded to the 2013 LCMS convention. One in particular deals with restoring voting rights to all congregations. Resolution 12-03-12A is intended to clarify confusion regarding the words "congregation" and "parish" in the Synod Constitution and Bylaws.
Harrison also served as the Bible study leader and Synod representative for the convention.
Posted April 25, 2012