By Kim Plummer Krull

As Japan braces for the one-year anniversary of a disaster that delivered a deadly, triple blow, LCMS ministry leaders are preparing to return to the country to work with partners on ongoing efforts that often prompt an important question.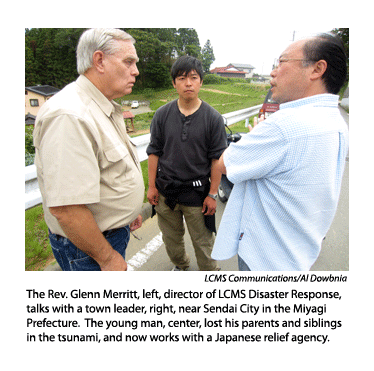 "About 1 percent of Japan's population is Christian, with the vast majority of the population practicing Buddhism or Shinto as a religion. Lutherans assisting with relief and recovery efforts are often asked, 'Why are you doing this?'" said the Rev. Glenn F Merritt, director of LCMS Disaster Response. "The door then is open for the sharing of the Gospel in a quiet, reserved way acceptable to Japanese society."

(To watch a March 9 Skype interview with Merritt, click here.)

The April 8-15 trip will mark Merritt's fourth to the country since what is now known as the "Great East Japan Earthquake," one of the most powerful quakes on record. On March 11, 2011, the 9.0-magnitude temblor triggered a massive tsunami that killed some 16,000 people and sparked the world's worst nuclear crisis since Chernobyl, according to news reports.

A reported 326,000 people remain homeless, and more than 3,000 are still unaccounted for.

To date, LCMS donors have provided more than $2.3 million for emergency and long-term recovery efforts in Japan. That support helped Japan Lutheran Emergency Relief (JLER) — a partnership of four Lutheran church bodies — distribute emergency supplies at a relief center in Sendai, the nearest major city to the quake, and provide families with shelter and medical care.

Nearly one year later, LCMS grants also continue to help the Japan Lutheran Church (JLC), the Synod's partner church in Japan, address continuing concerns about radiation in the Fukushima Prefecture. Tens of thousands of people have yet to return to homes that are intact but shrouded in fear from the nuclear power plant accident that caused mass evacuations and widespread contamination.

"It is very difficult to fight against [a] disaster which is invisible," the Rev. Masahiro Ando, director of the JLC Disaster Support Team, said in an email to Mer
ritt. "And people's anxiety grows because it is invisible."

In response, the JLC has installed equipment to monitor the safety of local produce. Japanese Lutheran leaders also are answering parents' requests for opportunities to give children respites away from radiation worries in Fukushima.

Developing the "Kids Escape" project will be on the agenda when LCMS leaders meet with representatives from the JLC and Japanese government organizations. The JLC is looking to build and staff a camp, along the lines of a vacation Bible school, and provide transportation for children.

Also in the works, with LCMS support, are scholarships for young people from Fukushima to enroll at Seibo Gakuen, a Lutheran junior and senior high school northwest of Tokyo. Students will live at the school whose English name is "Holy Hope Senior and Junior High School."

Lutheran leaders plan to discuss the possibility of the JLC starting a deaconess ministry. Deaconess Grace Rao, manager of LCMS Deaconess Ministries, will follow up on a seed planted by LCMS President Rev. Dr. Matthew C. Harrison when he traveled to Japan in June to support relief efforts.

(To see photos and video interviews from Harrison's June trip to Japan, click here.)
Women trained to serve congregations and communities "through works of mercy, spiritual care and teaching the Christian faith" can be an immense help to the JLC's growing needs, Rao said in an email.

Rao said she hopes to encourage Japanese Lutheran leaders to consider "giving an opportunity for women who desire to serve the church but do not know how."

In addition to Merritt and Rao, LCMS participants in the April trek include Michelle Cagnin, facilitator for human care in Asia and the area facilitator for Southeast Asia with the Office of International Mission (OIM), and Megan Kincaid, a GEO (Globally Engaged in Outreach) missionary in Hong Kong.

"Japan is on the road to recovery but, at the one-year mark, the process has just begun," Cagnin said in an email. "People have lost family members, their homes and their livelihoods. The spiritual and emotional needs continue long after the material things have been provided and life has resumed. People are most in need of supportive community and hope."

Lutherans are a minority in Japan's small Christian community. The JLC has some 3,000 baptized members, 37 congregations and operates a seminary in West Tokyo in cooperation with the Japan Evangelical Lutheran Church.

The JLC's Ando expressed, via email, appreciation for prayers and support from the LCMS that have helped Japanese Lutherans reach out to their countrymen during an unprecedented crisis. Like Merritt, Ando said he hopes that recovery work made possible by Lutherans in both the U.S. and Japan continues to provide opportunities to share Christ's love.

"I pray that God's rich grace and guidance bring peace to people who are in fear," Ando wrote. "And I [am] eager to tell people that there is a hope when you look up [to the] Lord who is raised from the dead."

To see pictures from November when LCMS ministry leaders worked in Japan with Lutheran partners on long-term recovery efforts, click here.

"The people of the LCMS, through their gifts, have made the accomplishments for the Japan earthquake relief efforts possible," said the Rev. John A. Fale, OIM interim co-executive director. "It is important for members of the LCMS to know what we are able to do collectively, long after a disaster has occurred, through their sustained prayers and generosity. It is disasters such as these that suggest the continuing opportunity for sustaining disaster relief work, of all kinds and in all places, long after the media spotlight has faded."

To make a gift to the Synod's continuing disaster response and prepare for immediate responses to future disasters:
mail checks payable to The Lutheran Church–Missouri Synod (noting General Disaster Relief Fund in the memo line) to LCMS Disaster Response, P.O. Box 66861, St. Louis, MO 63166-6861.
call toll-free 888-930-4438.
give online to the General Disaster Relief Fund (click here).
All funds contributed for national and international relief efforts will be used for disaster-response purposes as determined by LCMS Disaster Response. Your gift is tax-deductible to the extent permitted by law.

Kim Plummer Krull is a freelance writer and a member of St. Paul's Lutheran Church, Des Peres, Mo.
Posted March 9, 2012/Updated March 22, 2012