The online-application process for Young Adult Volunteers (YAVs) at the 2013 National LCMS Youth Gathering is open through Dec. 31. Registration for LCMS congregational groups attending the Gathering remains open until May 1.

The Youth Gathering is July 1-5 in San Antonio.

Young adults in the 19-25 age range on July 1 may apply to be volunteers at www.lcmsgathering.com/yav. Those 21 and older also must complete a free background check.

YAVs are responsible for covering their Gathering registration fee of $295, as well as travel and food costs. The registration fee covers housing and several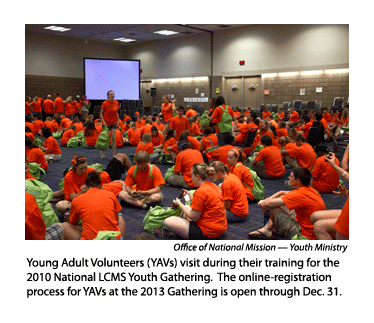 meals during their training.

"YAVs, also known as the 'Orange Nation' by the color of their Gathering shirts, are enthusiastic examples of Christian faith to Gathering participants," said Amy Gray, project coordinator for the Synod's Office of National Mission — Youth Ministry and manager of the Gathering Media Team.

Gray explained that YAVs "serve with the interactive learning centers, workshop speakers, servant events, mass events, hotel life and other components of the Gathering program."

Congregational groups may continue registering for the Gathering at the $295 per-participant rate until March 1. Then the fee increases to $345 per participant until registration closes May 1. For step-by-step registration instructions, visit www.lcmsgathering.com/registration.

For more information, contact the Gathering Office at nygregistration@lcms.org or 314-996-1155.
Posted Nov. 6, 2012