Registration is open for the 2013 LCMS Life Conference, set for Jan. 25-26 in Arlington, Va., at the Hyatt Regency Crystal City Hotel at Reagan National Airport.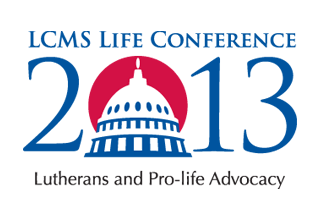 The conference is being held in conjunction with the 2013 National March for Life in Washington, D.C., that will observe the 40th anniversary of the Roe v. Wade ruling in 1973 that legalized abortion.
Space is limited at the conference, so those wishing to attend are encouraged to register soon at www.lcmslifeconference.org.
The conference title is "Lutherans and Pro-Life Advocacy — Good and Acceptable Service," based on 1 Tim. 2:1-4.
Open to all, the conference will offer tips for individuals, groups and congregations on pro-life advocacy at the local, state and national levels and discuss theological motivation, encouragement and practical suggestions for becoming more active in the public arena.
"We have an individual vocation as citizens and Christians to speak for those who can't speak for themselves, but we don't always know how," says Maggie Karner, director of LCMS Life and Health Ministries. "This conference will serve as a primer for how best to speak about the sanctity of life, both as a church and as individuals."
On the first day, participants will attend a worship service hosted by Immanuel Lutheran Church in Arlington, prior to proceeding as a group to the National Mall in Washington to take part in the National March for Life, followed by a family-style dinner and evening prayer at the conference hotel.
Speakers on the second day of the conference will be Synod President Rev. Dr. Matthew C. Harrison; Dr. Robert Benne, author of the book Good and Bad Ways to Speak about Religion and Politics; Mollie Hemingway, Lutheran journalist and blogger; and other Lutheran presenters actively involved in pro-life advocacy.
A youth track with special breakout sessions for high-school and college students will be offered on the second day.
A special lodging rate of $129 per day is available at the Hyatt Regency Crystal City for participants who mention the LCMS Life Conference when making reservations. For reservations, call 800-633-7313 or go to www.crystalcity.hyatt.com.
Posted June 7, 2012.