Online registration opens Nov. 1 at www.fromabove2013.org for three 2013 Higher Things conferences for Lutheran youth that will offer nearly identical programs in different locations and over separate dates.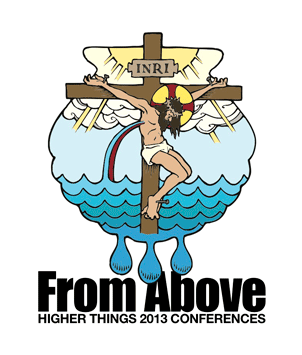 They are set for June 25-28 at the University of Scranton in Scranton, Pa.; July 9-12 at Purdue University, West Lafayette, Ind.; and July 16-19 at Pacific Lutheran University, Tacoma, Wash.

All three conferences will:
share the same theme — "From Above," based on John 3:3 ("… unless one is born from above he cannot see the kingdom of God").
offer similar programs, with specific times for worship, Bible study and entertainment.
begin on Tuesdays and end on Fridays.
Higher Things is an LCMS Recognized Service Organization that holds annual youth conferences and "works to promote a distinctly Lutheran identity among youth," according to a news release from the organization.

In that release, two Higher Things leaders address prospective conference participants concerning aspects of the 2013 events.

About the theme, Higher Things Conference Executive Rev. George Borghardt comments that "From above is where you were born in the waters of Holy Baptism. From above is how you live before God and before others. To be born of water is to be born from the side of Christ. It's living water from a crucified Lord who died and rose for us."

"We'll spend four days at each of the conferences immersed in the Gospel," said Conference Coordinator Sandra Ostapowich. "You'll not only learn what we as Lutherans believe, but you'll also learn why we believe it and why it's important. And you'll have fun meeting lots of other Lutheran youth and adults from all over the country who are just like you."

For more information about the Higher Things 2013 summer conferences, click here.
Posted Oct. 4, 2012