Registration is set to open Sept. 15 and run through Nov. 15 for "UNWRAPPED" — the first Synod-sponsored national campus-ministry conference in 10-plus years.
To register for the conference and for more information about it, go to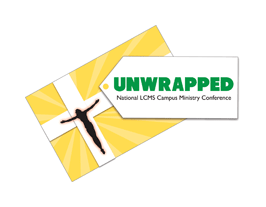 the Synod's campus-ministry Web page at lcms.org/campusministry.
Planned for Jan. 3-5 on the campus of Saint Louis University (SLU) in midtown St. Louis, the conference is geared toward college students, but open to anyone interested in campus ministry in the Synod, particularly those involved in LCMS campus ministries (including pastors and other workers).
Hosting and sponsoring the conference is the LCMS Office of National Mission (ONM). The conference schedule will include worship, Bible study, plenary presentations, sectionals on a wide variety of topics related to and of interest to college students, and various opportunities for fellowship.
The basic $175 per-person registration fee for the conference covers its program, three nights lodging at the Drury Plaza Hotel at the Arch (based on "quad" room occupancy) and most meals during the event. Although the program begins Jan. 3, conference organizers are encouraging all participants to arrive Jan. 2, and lodging for that night is included in registration.
The Rev. Marcus T. Zill, pastor of St. Andrew's Lutheran Church and Campus Center in Laramie, Wyo., the ONM's coordinator of campus ministry and chairman of the conference planning committee, told Reporter that "nothing states better what the conference and its theme are about" than an invitation on the campus-ministry Web page. It reads as follows:
"Life is anything but normal for Lutheran college students after they step away from church, home and family. Today's post-modern college campus provides them with a challenging climate, where reliability and truth of God's Word is mocked and their faith in Christ is often ridiculed.
"St. Peter implores all of us to 'always be ready to make a defense to anyone who asks you for a reason for the hope that is in you' (1 Peter 3:15). UNWRAPPED and the continuing work of the LCMS in campus ministry will provide instruction and answers for college-age youth to represent for Christ and seize opportunities to confess their faith to their [roommates], classmates or even hostile professors.
"Join us in 2013 for the UNWRAPPED conference, where we'll come together, unwrap God's Word and teach church workers and young people alike ways to share the gift of Christ with those around them. While the rest of the world is putting away their lights and taking down their Christmas trees, we'll begin 2013 by unwrapping God's Word together so that we might share the gift of Christ with others."
Reporter first announced plans for the conference with a story in March that included a preliminary listing of the following plenary speakers:
Synod President Rev. Dr. Matthew C. Harrison.
Craig Parton, Esq., of Santa Barbara, Calif. — a Lutheran layman and trial lawyer who is author of The Defense Never Rests: A Lawyer's Quest for the Gospel and Religion on Trial and U.S. director of the International Academy of Apologetics.
the Rev. Dr. Jeffrey Kloha, associate professor of Exegetical Theology at Concordia Seminary, St. Louis, and its director of Theological Resources and Continuing Education.
Six others have since been added as conference speakers. In alphabetical order, they are:
the Rev. John M. Dreyer, director of Admission at Concordia Theological Seminary, Fort Wayne, Ind.
the Rev. Dr. Jeffrey A. Gibbs, professor of and chairman of the Department of Exegetical Theology at the St. Louis seminary.
the Rev. Dr. Paul L. Maier, third vice-president of the Synod; The Russell H. Seibert Professor of Ancient History emeritus at Western Michigan University, Kalamazoo, Mich.; and a former campus pastor.
the Rev. John T. Pless, associate professor of Pastoral Ministry and Missions and director of Field Education at the Fort Wayne seminary and also a former campus pastor.
the Rev. Dr. Lawrence R. Rast Jr., president of the Fort Wayne seminary, where he is professor of American Christianity and American Lutheranism; and chairman of the LCMS Commission on Theology and Church Relations.
the Rev. Todd A. Wilken, host of "Issues, Etc." — an independent radio program produced by Lutheran Public Radio — and assistant pastor of Trinity Lutheran Church, Millstadt, Ill.
Zill said that information about additional speakers, speakers' topics, an FAQ section and more details about other elements of the conference (including registration fees based on other than "quad" lodging) will be offered on the website as that information becomes available.
He stressed that "the primary vehicle for all conference information is the UNWRAPPED section of the campus-ministry Web page" at www.lcms.org/campusministry.
For additional information about the conference, send an email to unwrapped2013@lcms.org.
Posted Aug. 23, 2012 / Updated Sept. 20, 2012