Calling her "the right person at the right time," LCMS President Rev. Dr. Matthew C. Harrison performed the rite of installation for Nicole Ridley as chief executive officer of the LCMS National Housing Support Corporation Aug. 22 at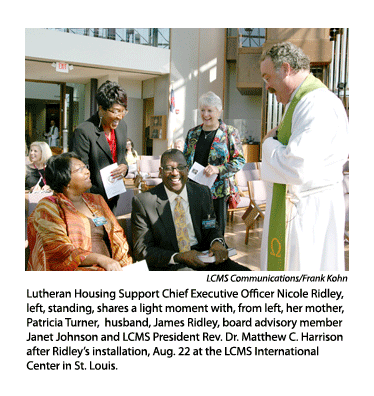 the Synod's International Center chapel.
Ridley, 44, previously served nearly five years as project director for the nonprofit corporation, which does business as Lutheran Housing Support, working with LCMS congregations, districts and Recognized Service Organizations to revitalize neighborhoods and provide affordable homeownership opportunities.
A 22-year community development veteran, Ridley said she is "excited and thankful for the opportunity to lead the Synod's housing and community revitalization arm as it strives to transform lives and communities forsaken by others." (See the installation video at http://www.lcms.org/lhsceovideo.)
Lutheran Housing Support "walks alongside partners, lending expertise and financial resources that helps open doors to affordable home ownership, safe senior housing, housing for special populations and more," Ridley said.
In his sermon, Harrison recalled meeting Ridley when he was pastor at Zion Lutheran Church and she was a community development practitioner, both in Fort Wayne, Ind. They worked together on the faith-based effort to turn around a troubled inner-city neighborhood where "the only viable institutions," Harrison said, were the church and a liquor store.
Today that once-decaying neighborhood now includes more than 30 new or rehabbed homes and a campus that includes a new library, Head Start and Urban League headquarters. The development spurred additional private investments, including the conversion of a vacant school building into senior housing.
Ridley "actually knew what was going on and knew how to get new homes built," Harrison said.
The LCMS president also paid tribute to the late Marie Kienker, the longtime Lutheran Housing Support executive director who helped launch the corporation, established in 2004 by LCMS World Relief and Human Care.
Ridley succeeds Deborah Rutt, who previously served as interim CEO. Ridley's appointment by the corporation's board of directors was effective May 1.
A graduate of St. Francis College in Fort Wayne, Ridley earned a bachelor's degree in Business Administration. She is deployed and lives in Alexandria, Va., with her husband, James.
In addition to James Ridley, special guests at the installation service were Ridley's mother, Patricia Turner of Fort Wayne.
Also attending were Lutheran Housing Support board members Dr. Gordon Adams, Norfolk, Neb.; the Rev. Dr. David Benke, Brooklyn, N.Y.; Aaron Lewis, Washington, D.C.; William Swift, Fort Wayne; and board advisory members the Rev. William H. Ameiss, Wheaton, Ill., and Janet M. Johnson, Chicago, Ill.
Other recognized guests were Lutheran Housing Support administrative assistant Mary Jo Becker and contract workers Anna Paul and Don Strohmeyer, who serve as project director and lead organizer, respectively, of the College Hill affordable housing project in North St. Louis, and longtime volunteer Gail Olson of St. Louis.
In fiscal years 2011 and 2012, Ridley said Lutheran Housing Support provided grants totaling $350,745 to 24 organizations and project support to 38 organizations in 16 states.
Looking ahead, Ridley added, some of the corporation's major initiatives include strengthening the capacity of Lutheran Housing Support and partners, addressing the needs of the homeless and providing housing options for older adults.
Learn more about Lutheran Housing Support at www.lcms.org/lhs or visit "LCMS National Support Corp." on Facebook.
Posted Aug. 24, 2012