Registration is open for the LCMS National Rural and Small Town Mission Conference to be held Nov. 1-3 at King's Pointe Resort, Storm Lake, Iowa.

Under the theme of "In Christ for Church and World: Witness, Mercy, Life Together," the conference seeks to inspire congregations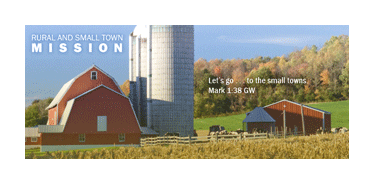 and their leaders who are concerned about shrinking membership and other challenges facing rural and small-town congregations.

Speakers will include Synod President Rev. Dr. Matthew C. Harrison; the Rev. Bart Day, executive director of the LCMS Office of National Mission; the Rev. Dr. Lee Hagan, interim director of LCMS Rural and Small Town Mission (RSTM); and Luther Snow, rural-development expert and author of The Power of Asset Mapping: How Your Congregation Can Act On Its Gifts.

Participants will choose from breakout-session topics including youth and family ministry, funding and stewardship, rural resources and other topics of concern to rural and small-town congregations.

Registration is $200, which covers all plenary, breakout and Bible-study sessions; conference materials; five meals; and continued training after the conference. Deadline for registering — online at www.lcms.org/rstm/conferenceregistration — is Sept. 15.

Hotel reservations must be made separately from conference registration. Lodging reservations at the Kings Pointe Resort may be made by calling 877-217-2232 or visiting www.kingspointeresort.com. A special Kings Pointe lodging rate of $79 per night is available for those who mention the conference.

For more information, contact RSTM Coordinator Amy Gerdts at amy.gerdts@lcms.org or 888-463-5127. Or, visit www.lcms.org/page.aspx?pid=1406.
The conference is sponsored by RSTM, a component of the LCMS Office of National Mission. Based in Concordia, Mo., RSTM provides training and resources to rostered and lay leaders throughout the Missouri Synod.

"LCMS Rural and Small Town Mission supports and encourages rural and small-town congregations in engaging their communities and growing together in Christ through Word and Sacrament, in partnership with district offices," Gerdts told Reporter.
Posted May 17, 2012 / Updated June 13, 2012