Delegates to the 2012 LCMS Southern District's 73rd convention re-elected the Rev. Kurtis D. Schultz of Slidell, La., on the first ballot to his fourth three-year term as district president.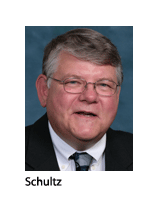 The convention, June 14-16 in Metairie, La., had as its theme "It's Time — That They May Know Jesus," based on John 17:3.

Delegates also elected the following vice-presidents, who previously served as district vice-presidents:
the Rev. Dr. Warren H. Davis, pastor of Jehovah Lutheran Church, Pensacola, Fla., now first vice-president.
the Rev. David A. Doroh, pastor of Our Redeemer Lutheran Church, Florence, Ala., second vice-president.
the Rev. John E. Karle, pastor of Christ the King Lutheran Church, Natchitoches, La., third vice-president.
the Rev. David A. Lewis, pastor of CrossRoad Church, Hernando, Miss., fourth vice-president.
Schultz and the district's other officers were installed during the convention.

Delegates also adopted resolutions that:
encourage a growing relationship between the LCMS Southern District and the Ethiopian Evangelical Church Mekane Yesus that allows sharing best mission practices and provides support for a strong confessional Lutheran witness in that Ethiopian church body. With some 6 million members, the Mekane Yesus church is the world's largest Lutheran church body. The action also encourages members throughout the LCMS Southern District to support the work of the Mekane Yesus church with prayers and monetary gifts.
call for strengthening the Southern District's outreach to the Spanish-speaking population by advocating and facilitating grass-roots ministry initiatives among circuits and congregations.
encourage Concordia College Alabama and the two LCMS seminaries to provide opportunities for seminary courses on the college's campus at Selma, Ala. The resolution also challenges district congregations to help recruit black church workers — especially pastors.
encourage congregations and schools to participate in the Lutheran Malaria Initiative, which has the goals of educating people about malaria and its prevention, and eliminating malaria deaths in Africa by the year 2015.
Convention presenters equipped delegates and guests to carry out the convention theme. They included:
Dr. Kurt Senske, chief executive officer of Lutheran Social Services of the South in Austin, Texas. A member of the LCMS Board of Directors and chair of the Board of Directors of Thrivent Financial for Lutherans, Senke addressed Christian vocation in his convention presentation.
Rev. Anthony "Tony" Cook, assistant professor of Practical Theology and associate dean for Curriculum and Instruction at Concordia Seminary, St. Louis, who spoke about today's unchurched landscape.
The Rev. Greg and Susan Finke, who are with a ministry known as "Dwelling 1:14" in League City, Texas, and who spoke on living missionally within neighborhoods. An LCMS pastor, Greg Finke is that ministry's executive director.
LCMS Fifth Vice-President Rev. Dr. Scott R. Murray represented the Synod at this year's Southern District convention. He preached for the opening service, spoke on behalf of Synod President Rev. Dr. Matthew C. Harrison, followed by a question-and-answer session, and led Bible study.

The convention offering was designated for Concordia College Alabama and to support work in the Ethiopian Evangelical Church Mekane Yesus.
Posted June 18, 2012