LCMS President Rev. Dr. Matthew C. Harrison has issued a proclamation announcing "National Lutheran Schools Week" March 4-10.

The annual observance recognizes the contributions of Lutheran education through the Synod's 2,400 early childhood centers, elementary schools and high s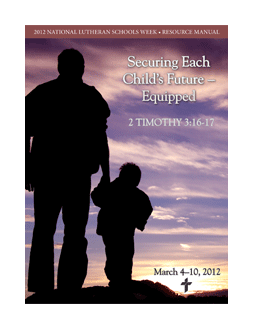 chools nationwide.

Synod schools and congregations are encouraged to take part in the weeklong celebration with special worship and prayer services, as well as other activities that highlight the gifts of Lutheran schools.

The theme of this year's observance is "Securing Each Child's Future — Equipped," based on 2 Tim. 3:16-17.

Terry Schmidt, associate director of LCMS School Ministry, says Lutheran schools offer students something extra.

"We know that learning takes place just as it does in any school," Schmidt said. "But the opportunity to be shaped by the Gospel has a profound impact on the lives of students.

"The opportunity to stop and pray teaches that Jesus wants us to be talking with Him all the time," he said. "Students are invited to participate in projects that teach compassion and caring through their offerings and collections. They learn that they can make a difference in the lives of others — a Christ-like difference."

Resources designed to help schools and their sponsoring congregations celebrate "National Lutheran Schools Week" may be ordered from the LCMS Online Store at http://store.lcms.org, or call the School Ministry office at 800-248-1930, ext. 1285. (Click here to read a Reporter story about what resources are available.)

To download a copy of the 2012 National Lutheran Schools Week Proclamation, visit the Office of the President Document Gallery at http://lcms.org/page.aspx?pid=708 (click on proclamation link under "Statements").
Posted March 5, 2012