Thrivent Financial for Lutherans and the Thrivent Financial for Lutherans Foundation announced Nov. 8 that they would together commit up to $1 million to Superstorm Sandy relief efforts as part of a dollar-for-dollar match program.

For every dollar Thrivent Financial for Lutherans grants to disaster-relief agencies based on eligible Thrivent member recommendations through the Thrivent Choice program, the Thrivent Financial for Lutherans Foundation will match these contributions up to $500,000 — for a total combined impact of $1 million.

The eligible disaster-relief agencies are LCMS World Relief and Human Care, ELCA (Evangelical Lutheran Church in America) Dis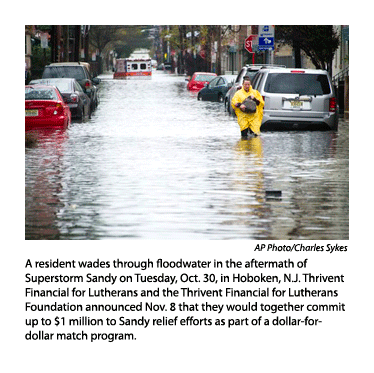 aster Response and the Wisconsin Evangelical Lutheran Synod's Christian Aid and Relief.

The deadline for the donations is March 31, 2013, or once the Thrivent Choice Dollars® member-direction goal has been reached. The match also is retroactive for any Choice Dollars directed to these agencies since Oct. 29, 2012.

Thrivent Choice is a member-advised, charitable-granting program that gives Thrivent members an opportunity to recommend a predetermined amount of Thrivent Choice Dollars annually to benefit eligible nonprofit organizations nationwide. More than 269,000 members have participated in the Thrivent Choice program. Members who are unsure about whether they qualify for the program may contact their local Thrivent Financial representative or a representative from Thrivent's Member Connection Center at 800-THRIVENT (847-4836) — say "disaster response" at the prompt.

In addition to providing this Superstorm Sandy-focused opportunity, Thrivent Financial is asking its members to work with their local Thrivent chapters to help with their relief efforts as well as consider additional personal donations.

"Thrivent Financial and our members have always shown generosity in helping others during times of great need," said Tim Campbell, managing partner for Thrivent Financial's Northeast Region. "Our combined $1 million donation will hopefully help the many people affected by the impact of Hurricane Sandy."

To find out more about this relief effort, click here.
Editor's note: Thrivent members who wish to direct Thrivent Choice Dollars to LCMS mercy work may continue to select the "LCMS World Relief and Human Care" option until June 30, 2013, when the name will be discontinued as a Thrivent Choice option to comply with restructuring and rebranding requirements. Donors who wish to support LCMS mercy work with Choice Dollars also are encouraged to select the LCMS Global Mission option, which will be the preferred option beginning July 1, 2013.
Posted Nov. 8, 2012 / Updated Nov. 15, 2012