Two LCMS church properties were damaged in fires over a three-day period in March. Both fires are reported to have been set by arsonists during early-morning hours. No injuries were reported. Information about possible motives is not available.
In Buffalo, Mo., Our Savior Lutheran Church was totally destroyed by a fire that was discovered about 3:30 a.m. March 21.
Investigators believe the fire — which started in the back of the church building — was intentionally set because of evidence at the scene. No one has been arrested.

When firemen arrived, about half of the building was in flames, according to news reports. The church building, more than 50 years old, included two Sunday-school rooms, a fellowship area, a kitchen and bathroom — all of which were destroyed. A 3-foot-high gold cross on the altar melted, according to Pastor Rev. Jim Meyer.

The congregation of some 40 members is "devastated, just like I am," Meyer told Reporter. "They're in grief. They know it was just a building, just things, but you still grieve."

Missouri District President Rev. Dr. Ray Mirly visited Meyer, his circuit counselor and the Our Savior church council March 22 to assess damages and lend support.

Meyer said he is hoping to get volunteers to help demolish the charred remains of the church building and to clean up the site. He's not sure how or when the congregation will rebuild, but until that decision is made, members will worship at other locations. A local Baptist church and a funeral home have offered worship space in their buildings, Meyer said, and another congregation he pastors — Hope Lutheran Church in Hermitage, Mo., about a half-hour away — would be open to Our Savior members.

Meyer said he is thankful no one was injured in the blaze. The congregation "will get past this one moment at a time," he said. "God will carry us through this."
In Tualatin, Ore., two 13-year-old boys were arrested March 19 for arson and burglary in connection with a three-alarm fire at Living Savior Lutheran Church and Preschool that began sometime before 3 a.m. that morning.
Neither suspect — nor anyone in their families — is a member of the congregation, according to Pastor Rev. Nathan Brandt.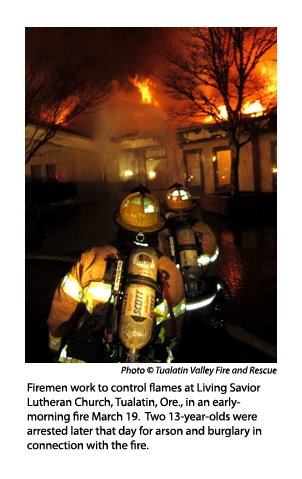 The fire consumed four offices and caused extensive damage to the congregation's fellowship hall and a portion of its new sanctuary, which was completed in July 2009.

No one was injured in the blaze, which took some 60 firefighters four hours to control.

Parishioners are shocked and saddened by the tragedy, Brandt told Reporter. But, he added, "buildings are replaceable, people are very precious, and we're thankful no one was hurt. We'll move on."

A midweek Lenten service scheduled for March 21 was held in the church parking lot, and Sunday worship services will take place, at least temporarily, in the auditorium of Tualatin High School. The congregation's preschool of 94 students, which was located in the fellowship hall, will meet at a neighboring church.

A March 19 story on the website of The Oregonian newspaper noted that Brandt's Sunday sermon on the day before the fire focused on Moses, serpents and the people of Israel in the wilderness.

"There are things at our feet that bite us, and we have to look up," the pastor told the newspaper. "We got bit, but we still [have] to look up."
Posted March 23, 2012