By Kim Plummer Krull

One week after an EF3 tornado hit southeastern Michigan, the Rev. Larry Courson and members of Peace Lutheran Church, Ann Arbor, Mich., were busy coordinating volunteers to tackle a second weekend of cleanup in the hard-hit suburb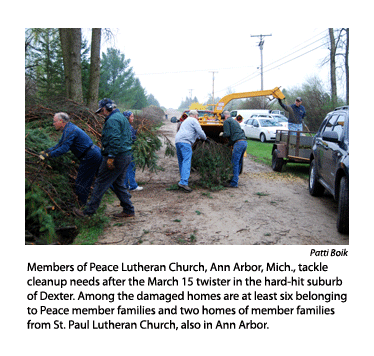 of Dexter.

"People are anxious to help," Courson said about the response to the March 15 twister that damaged more than 200 homes, destroying at least 20. "We certainly plan to continue providing help and support to the families in our area, many of whom will be displaced for up to six months or more while their houses are being repaired or rebuilt."

The LCMS also is lending a hand, providing a $5,000 grant to Peace to assist families with gift certificates and funds to help with temporary living expenses and other needs.

The grant, made possible by donors to the LCMS, also helped provide food and cleanup supplies for volunteers, including some 40 people who worked March 24 at three different sites. The group included Peace members and students from Concordia University, Ann Arbor, who cleared debris, using a chipper shredder rented by the congregation.

Among the damaged homes are at least six belonging to Peace member families and two homes of member families from St. Paul Lutheran Church, also in Ann Arbor.

Volunteers also worked March 18, cutting fallen trees and cleaning up at the home of a Peace member Courson called the hardest-hit.

"This member will not be able to pay his insurance deductible or cover the cost for removal of trees from his drive to allow him to get into his home," Courson said in the congregation's grant request. "His roof and gutters will need to be replaced."

At weekend services after the twister, Courson said he modified the sermon he had planned for that day, thanking God for no reports of death or serious injuries and reminding worshippers that "God's great love is always there, to help us an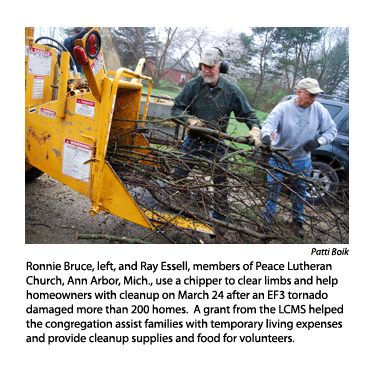 d even to bring great things out of tragedy."

At St. Paul, that weekend's worship bulletin included a message from the Rev. Donald Neuendorf, urging members to be "the eyes and ears of the body of Christ" so the congregation can continue to care for people in need long after emergency responders are gone.

John Lewis, a St. Paul member and principal-gifts officer for Mission Advancement of the LCMS, has been in touch with both Neuendorf and Courson on behalf of the Rev. Glenn F. Merritt, director of LCMS Disaster Response. Lewis' home is about a block from where the twister tore through his neighborhood.

"The unfortunate thing is that after three to four weeks, a lot of [first-responder and emergency] agencies pull out," Lewis said in an email. "It is up to the church at-large to continue to meet the needs — both spiritual and basic human needs — of those who are affected in the long term. I know that is what the LCMS and our local church body are preparing to do."

To make a gift to help share Christ's mercy with families in need:
make an online donation at www.lcms.org/givenow/tornado.
mail checks (payable to "The Lutheran Church–Missouri Synod" and noting "Tornado Disaster Relief" in the memo line) to The Lutheran Church–Missouri Synod, P.O. Box 66861, St. Louis, MO 63166-6861.
call toll-free 888-930-4438.
Donations received in excess of the need for this relief effort will be wisely used to support LCMS disaster-response and relief efforts in other areas where the need is great as determined by The Lutheran Church–Missouri Synod. Your gift is tax-deductible to the extent permitted by law.

Kim Plummer Krull is a freelance writer and a member of St. Paul's Lutheran Church, Des Peres, Mo.

Posted March 26, 2012/Updated March 27, 2012