Walter William Kayser, who served as a member of the Lutheran Church–Missouri Synod Board of Directors from 1981 to 1984, died April 21 of natural causes. Kayser, of Grand Rapids, Mich., was 94.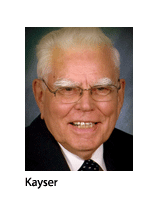 A funeral service is scheduled for 10 a.m. Saturday, April 28, at Messiah Lutheran Church, 2727 5 Mile Road NE, Grand Rapids. The family will greet friends on Friday, April 27, from 2 to 4 and 6 to 8 p.m. at Metcalf & Jonkhoff Funeral Home, 4291 Cascade Road SE, Grand Rapids.

Kayser was active in numerous LCMS ministries. Since the 1950s, he held a number of leadership roles in the Michigan District Lutheran Laymen's League, including serving as president. He received the Int'l LLL's Award of Merit in 1985.

His passion for mission and ministry drew him to serve on the LCMS Board of Missions from 1969 to 1981 (as vice-chairman from 1971 to 1981), the Board of Regents for Concordia Theological Seminary (then in Springfield, Ill.) from 1966 to 1969, and the board of directors for the LCMS Foundation (1969-75).

He also taught Sunday school, served as congregation president and directed a $510,000 campaign for the chapel of Concordia Lutheran College (now University) in Ann Arbor, Mich. In 1961 he received the Michigan District's Zeile Memorial as "Layman of the Year."

"Walter's leadership in domestic and foreign missions for The Lutheran Church–Missouri Synod resulted in the establishment of churches and schools throughout North America," said his son-in-law, Michael Fuchs, who serves Texas Partners in Mission, a ministry of the LCMS Texas District. "He was a loving husband, father and grandfather, friend and dedicated servant to his church, community and country."

Born on a farm in Caledonia, Mich., Kayser grew up during the Depression and served with the U.S. Navy in the South Pacific during World War II. His 45 years as director of International Operations at Oliver Machinery Company in Grand Rapids sent him to 90 countries. In his spare time, he was an avid runner, gardener and beekeeper.

Kayser was preceded in death by his wife of 60 years, Verna Engelhardt Kayser. He is survived by three children — Susan (Michael) Fuchs of Colleyville, Texas; W. David Kayser of Houston; and Karen Kayser (Fred) Groskind of Louisville, Ky. — four grandchildren (Christine Hoehner, Sarah Gustafson, Austin Kayser and Emma Groskind); and three great-grandchildren (Joel Hoehner, Elise Hoehner and Evan Gustafson). He also is survived by sisters Mildred Hansen and Beatrice Wollin, and brothers Gerald and Vernor Kayser.

In lieu of flowers, memorial contributions may be sent to Lutheran Hour Ministries, 660 Mason Ridge Center Dr., St. Louis, MO 63141-8557, or a favorite charity.
Posted April 25, 2012