Former Walther League members from throughout the United States are invited to attend the 28th annual Walther League and Lutheran Young Adult Reunion on Saturday, Sept. 29, in Frankenmuth, Mich., as part of a "Heritage Weekend" of activities.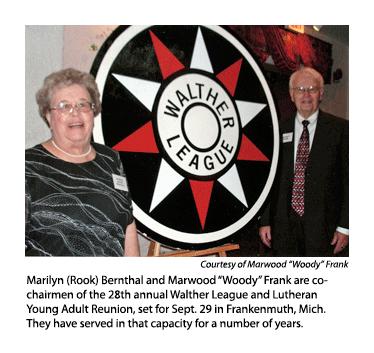 On Friday, Sept. 28, attendees will tour the historic St. Lorenz Lutheran Church, the church museum and cemetery. On Saturday, an all-you-can-eat chicken buffet will be served at the Frankenmuth Bavarian Inn Lodge followed by a program that includes a presentation by Elaine Bickel, author, lecturer, educator and motivational speaker. Sunday's activities include church services at St. Lorenz and another opportunity to tour the church grounds.
Members of the organizing committee hope those attending "will learn of Frankenmuth's rich Lutheran heritage" and will discover why the city was recently rated as the "Fourth Most Christmassy Town in America" by Time magazine.
Deadline for reservations to attend the Saturday buffet and program is Sept. 20. The fee for the event is $18.50. For more information about the reunion, which has been attended by more than 200 in past years, contact Marwood "Woody" Frank at mwoodyf@charter.net.
The LCMS Walther League organization for youth and young adults began in 1893 and was named for the Rev. Dr. C.F.W. Walther, the first LCMS president. After years of activities and accomplishments, including the distribution of Christmas seals to support the funding of the Wheat Ridge Sanitarium in Colorado in the early 1900s, the final Walther League convention was held in 1968.
This year's event will give special recognition to Irene Bronner and to her husband, Wally (who was instrumental in expanding the reunion prior to his death in 2008), by having a special offering given in their names to the endowment fund to ensure the upkeep of the Walther Mausoleum at Concordia Cemetery in St. Louis.
The 120-year-old mausoleum, the final resting place of Walther and his wife, Emilie, has experienced several phases of restoration over the years (most recently in 1956 and 1988). Due to aging of the structure and the effects of weather and time, further work is required. Deeded to the LCMS in 1987, the endowment fund was created in 2010 for ongoing maintenance and funding for larger restoration projects, as needed.
For more information about preservation of the Walther Mausoleum, visit http://lfnd.org/walther or call 888-930-4438.
Posted May 1, 2012