Wheat Ridge Ministries of Itasca, Ill., is awarding $263,000 in grants to fund efforts of six "health and hope" ministries, including four related to The Lutheran Church–Missouri Synod.

"Wheat Ridge Ministries is excited to offer needed assistance to these Lutheran organizations who seek to bring health and healing to their communities," said B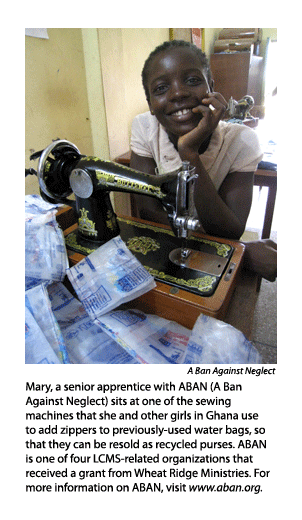 rian Becker, vice-president for ministry programs with Wheat Ridge. "These inspired leaders and organizations are striving to reach out to their community with the love of Christ. We're able to award these grants because of many faithful individuals and congregations who support Wheat Ridge. The partnership between Wheat Ridge, the grantee congregations and our supporters is a great blessing."

Grants to the four LCMS-related ministries are:
$50,000 to Holy Cross Lutheran Church, Lake Mary, Fla., to provide essential services to homeless families including shower facilities, full-service laundry, access to computers and referrals to other resources in the community through its homeless care center, The Oasis.
$45,000 to Lutheran Family Services of Nebraska, Omaha, to equip congregations to serve the needs facing military families in their communities and to provide a post-traumatic stress disorder and trauma program for military members and their families through its At Ease(r) program.
$40,000 to Lutheran Social Services of New England, Bridgeport, Conn., for its Neighbor to Neighbor program that seeks to provide companionship, transportation and information through volunteer caregivers to isolated, frail elders, with special outreach to those with limited means, limited English and ethnic minorities.
$50,000 to the Young Women's Empowerment Program based in North Carolina for its "A Ban Against Neglect" project which offers temporary living space to young mothers in Accra, Ghana, along with academic, vocational and financial skills training and counseling. One of its founding members, Rebecca Brandt, graduated from Concordia University, Irvine, Calif., and is a member of Shepherd of the Desert Lutheran Church in Scottsdale, Ariz.
Wheat Ridge's GrantsPlus Program supports innovative health and human care programs led by congregations and nonprofit organizations affiliated with the Lutheran community. Grants range from $5,000 to $50,000 over two to three years.
For more information about Wheat Ridge grants, send an email to grants@wheatridge.org or visit www.wheatridge.org.
Posted Feb. 1, 2012