The registration process for the 2013 National LCMS Youth Gathering moves into full swing as its registration "priority window" is open Oct. 16-30. The Gathering is July 1-5 in San Antonio.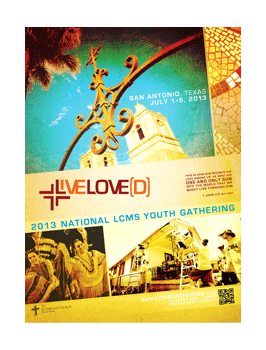 Mailing the necessary forms and deposit during the Oct. 16-30 period ensures that congregational groups are accepted into the Gathering and will likely receive their hotel zone preference.

Step-by-step instructions for registration for youth and adult participants are online at lcmsgathering.com/registration. Primary Adult Leaders can start the registration process with registration worksheets on the web page.

Starting Oct. 16, the required forms and deposit can be mailed to the National Gathering Office at 1333 S. Kirkwood Rd, St. Louis, MO 63122.

While the priority window closes Oct. 30, groups may continue to register at the $295 per-participant fee until March 1.

Gathering registration remains open until June 1 at an increased rate of $345 per participant after March 1.

For more information on registration, visit www.lcmsgathering.com/registration or contact the Gathering Office at nygregistration@lcms.org or 314-996-1155.
Posted Sept. 26, 2012