By Joe Isenhower Jr. and Paula Schlueter Ross

Of the 165 positions and requests for LCMS missionaries available worldwide this year, only about half have been filled, according to the Rev. Dr. David Birner, interim executive director of the Synod's Office of International Mission.

That total includes 101 positions for GEO (Globally Engaged in Outreach, serving one- to two-year terms) missionaries, with only 51 filled, and 64 career-missionary requests, with 38 filled to date.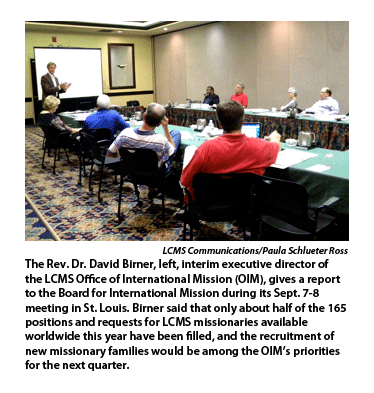 More missionaries are needed, Birner said when he shared those figures with the Board for International Mission (BIM) during its Sept. 7-8 meeting in St. Louis. He added that during the next quarter the Office of International Mission will focus on "recruitment of new missionary families for global ministries while continuing work on aligning program and budget priorities for the coming year."

The Board for National Mission (BNM) also met Sept. 7-8 — separately and in joint sessions with the BIM. Continuing with their primary responsibility of developing policies for the Offices of National and International Mission, the BNM adopted 11 policy drafts in five ministry areas and the BIM adopted one regarding chaplains.

Both boards are working toward finishing their initial policy drafts and plan to submit those drafts early in 2013 to the LCMS Commission on Constitutional Matters and the Synod Board of Directors for their review.

In their joint meeting, the two mission boards heard reports from:
Synod President Rev. Dr. Matthew C. Harrison, in which he provided a breakdown of topics addressed in resolutions and question-and-answer sessions from a number of the 22 LCMS district conventions he attended this year.
the Rev. Dr. Timothy C.J. Quill, LCMS director of Global Seminary Education, who spoke about strategies for global theological education.
Synod Chief Mission Officer (CMO) Rev. Gregory K. Williamson, who said that both boards are important for strategic planning that is vital to the Synod's mission and ministry.
Birner's report to the BIM included descriptions of the LCMS Missionary Call Process and June 24-July 6 New Missionary Orientation; a list of those who have accepted calls and attended orientation; and a list of those who completed their missionary service during the summer months.

He said his department is working with the 29 new missionaries to complete their fundraising and he expects that the remainder of those who have not yet been deployed will be on the mission field by year's end.

He also described how the LCMS does mission work — its history, partners and current focus, which is "building sustainable Lutheran communities of believers that will endure from generation to generation."

Birner said that many LCMS partner-church leaders recall the tremendous impact of LCMS missionaries helping them with human-care needs, even though many of those church leaders were children when the Synod began work in their countries. They talk about those memories first, he said, "because that's where the [mission] connection was made."

Subsequent steps include establishing Bible study and Word-and-sacrament ministry, followed by training church leaders and building schools and seminaries, ultimately leading to the establishment of a multi-national mission team with staff from both the LCMS and the partner church. Such teams already are at work in the Dominican Republic and other countries, he noted.

Birner also shared several "mission priorities" with the board, including that the LCMS has:
begun working with the seminary of the Evangelical Lutheran Church of Argentina to train and ordain the first indigenous Lutheran pastors in Peru.
initiated the first Lutheran Malaria Initiative program activity with the Lutheran Church of Nigeria.
established fellowship with the Evangelical Lutheran Church of Liberia through the LCMS office of Church Relations.
seen a 40 percent increase in enrollment at Concordia International School Hanoi (CISH) in Hanoi, Vietnam, in its first year of operation. The school also has identified a site on which to build a permanent K-12th grade facility and is working to secure funding for construction. (Click here to read a related story, "Board's OK allows loan agreement for Hanoi school campus.")
Among actions taken, the Board for International Mission approved:
a slate of candidates for the position of executive director, Office of International Mission, and
slates of missionaries and chaplains to serve as advisory representatives at next summer's LCMS national convention.
"I appreciate the work of this board more and more as we begin to settle into the roles that we have," the Rev. Bernhard Seter, BIM chairman, told Reporter. "It was exciting to see the opportunities that continue to open up around the world and the future that we can have with our partner churches in spreading the Gospel.

"I pray that when the people of our church body see that this is a great time in God's time to work around the world, they will wholeheartedly support the work of the church even more than they have in the past," Seter said.

"Great things are happening for Christ and His church, and we should rejoice in our life together."

The Board for National Mission devoted most of its time at the September meeting to drafting and adopting policies. Adopted were 11 policy drafts under the following five ministry areas:
Youth — six policy drafts.
Ethnic Missions and Ministry — one.
Stewardship — one
Health Ministries — one.
Worship — two.
The ONM also worked on a number of other policy drafts it is expected to consider between now and its next meeting in February.

The Rev. Bart Day, director of the Office of National Mission, reported to the BNM that "the summer has been a busy time in the ONM. I am continually grateful for the wonderful dedication of our staff. The focus on expanding our work of Witness and Mercy remains at the heart of all we do. Thanks be to God."

Day noted that the "work continues to progress with restructuring, as well as implementing various strategies within ONM." He said that such strategy work mainly has to do with continuing priorities "to develop around connecting an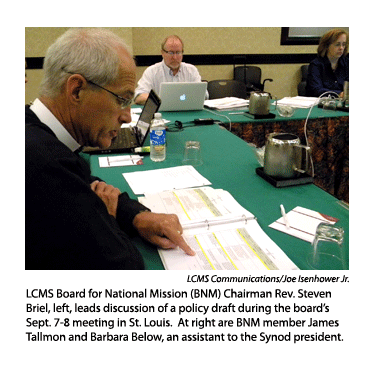 d collaborating with districts [and] congregations, using the rural/small-town, urban/inner-city, and suburban model. I am convinced this is the hinge to allow us to best support the work of the church."

He reported that several positions have been filled in the ONM since the board last met in May, and that seven positions remained to be filled.

"This is a critical time in shaping the future of the ONM," Day wrote in a report for the board.

In line with a suggestion from its May meeting, the BNM spent time reviewing a report on LCMS Recognized Service Organizations (RSOs) compiled by Day and Deaconess Dorothy Krans, the ONM's director of RSOs.

Employing pie charts and other formats, Day presented the report that covered numerous aspects of the Synod RSO program — nearly the same as a report that he and Krans had presented to the Synod Board of Directors just two weeks earlier. For that information, click here to read the story about the Board of Directors meeting.

However, for the ONM meeting, additional information was prepared about RSOs' requirements for their own boards' makeup, primarily in terms of their stipulations concerning whether and how many of those board members are from the LCMS or other denominations.

The ONM meeting dates set for 2013 are Feb. 11-12, June 3-4 and Sept. 12-14. For 2014, meetings were set for Feb. 7-8, May 30-31 (jointly with the BIM) and Sept. 26-27.

Future meeting dates for the BIM in 2013 are Feb. 8-9, May 31-June 1 and Sept. 12-14. Other than the joint meeting with the BNM, the BIM's 2014 meeting dates are set Feb. 10-11 and Sept. 29-30.

During the two boards' time together in the Sept. 7-8 meeting, Harrison reported that for the 35 LCMS district conventions this year, "either I and/or a Synod vice-president was present for every day of every convention."

He provided a breakdown, by topic, of 152 questions that district-convention participants asked him during 16 of the 22 conventions he attended.

He indicated that the four types of questions they raised most had to do with:
religious freedom, the "public square and the left- and right-hand kingdoms;
seminaries;
doctrine and practice; and
project- or program-specific topics such as the Synod's Koinonia Project, Haiti relief efforts, RSOs and Ablaze!
Harrison added that 12 of the district conventions he attended adopted 17 resolutions that addressed topics such as sanctity of life, marriage and religious freedom.

Next in order of the frequency of resolutions adopted by those conventions were:
support for the Lutheran Malaria Initiative, from eight convention resolutions;
support of Operation Barnabas;
licensed deacons conducting Word-and-sacrament ministry;
the role of women, as addressed in LCMS 2004 Convention Resolution 3-08A, which affirms the conclusions of a 1994 report of the LCMS Commission on Theology and Church Relations titled "The Service of Women in Congregational and Synodical Offices."
the definition and consistency of Communion practice;
both concerns and commendations of the Specific Minister Pastor program; and
extending national and international mission efforts.
Also for the Mission boards' joint session, Harrison spoke of the importance of the "visitation" aspect of ecclesiastical supervisors' ministry — applying that to the Synod president, district presidents and pastors.

In his report, Quill traced the history and nature of global theological education.

He spoke of the "central role" of seminaries in theological education, while also noting that preparation and use of lay evangelists and others are important.

"Well-educated missionaries and indigenous clergy are necessary to build up Lutheran churches and to protect them from numerous theological and cultural threats," Quill told the boards. He added that such threats include "western liberal theology and secularism, Pentecostalism, Islam, relapse into paganism and lack of financial resources."

Quill noted that a number of seminaries of LCMS partner churches were formed as a result of the work of Synod missionaries in those places, while others have been established by partner churches.

He pointed out two "critical needs": for career missionaries to teach at partner-church seminaries and an initiative to restore their seminary libraries.

He also noted the role of laity in missions, such as with medical missions and Lutheran schools.

From the history of the early church, he said "we need to keep in mind that a key to growth of the church was evangelism of anonymous Christians giving witness in kitchens, shops and markets, and in performing acts of charity."

He also stressed the importance of "Lutheran churches using the Lutheran liturgy in establishing and maintaining Lutheran churches with a truly Lutheran identity."

Speaking of the importance of strategic planning for the church, Williamson thanked the Mission boards' members and told them, "You are critical to strategic planning for our Synod."

"Very few in the church are trained strategically," he said. "Your policies for national and international mission can do much to move the mission strategically. You're a rare commodity."

He added that with the Synod staff, strategic planning is being applied in budgeting, codifying process and procedures (employing "scorecards with matrixes"), current staffing and new hires.

"We're doing a better job of planning — strategically, with accountability," Williamson told the two boards.

Posted Sept. 27, 2012 / Updated Sept. 28, 2012