According to Concordia College Alabama in Selma, Ala., the Rev. Mark and Kathy Helge have committed $5 million for new academic programs, scholarships, capital projects and other strategic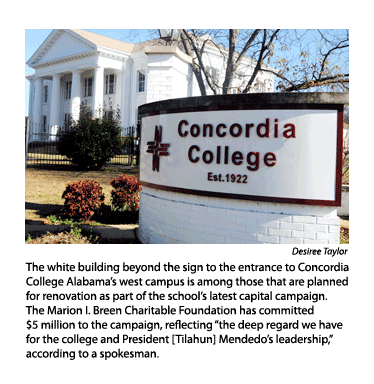 priorities outlined in the college's "A Time to Build" campaign initiative.
It is the largest single contribution in the history of the college and will serve as the lead gift in the emerging comprehensive campaign, according to a news release from the college.
The college's president, the Rev. Dr. Tilahun Mendedo, announced the gift to the college's Board of Regents and the Concordia University System Board of Directors at their joint meeting Feb. 21.
"We are delighted that the [Helges have] demonstrated such a strong commitment to the college," said Mendedo. "God's love and grace is demonstrated through this gift as it will help Concordia reach more students with quality, Christian higher education."
"Our gift to Concordia Alabama reflects the deep regard we have for the college and President Mendedo's leadership," said the Rev. Mark Helge, president of the Marion I. Breen Foundation and nephew of the late Marion Breen. "We are most impressed by the unwavering commitment of President Mendedo and [the] Concordia faculty to serving economically disadvantaged students, the Christian witness it lives out daily and its careful management of resources.
"Given its unique mission and the tremendous needs of the students it serves, we pray that this gift will inspire other friends and alumni to give generously. We know that Aunt Marion would approve of our partnership with Concordia College Alabama."
Founded in 1922 by pioneering educator Rosa Young, Concordia is a four-year, Christian, liberal arts college accredited by the Southern Association of Colleges and Schools. Offering undergraduate programs in education and business, Concordia is distinguished as being the only historically black Lutheran college in the country and by its "unique environment for learning that prepares students through a Christ-centered education for lives of responsible service in the Church, community and world."
Concordia is located in the heart of Alabama's Black Belt Region and in the center of many of the most poignant moments of the historic civil-rights movement.
Mendedo said the gift will be used to help the college achieve its vision as "a diverse, global institution of excellence, and a leader in developing intellectual, spiritual and moral leaders of Christ-centered justice."
For more information about Concordia College Alabama — one of 10 schools in the Synod's Concordia University System — visit www.ccal.edu.
Posted March 5, 2013 / Updated March 11, 2013