By Laura J. Seaman

Even below-freezing temperatures and intermittent snowfall couldn't stop hundreds of thousands of people from joining the national "March for Life" in Washington, D.C., on Friday, Jan. 25.
The following day, Jan. 26, many Lutherans who participated i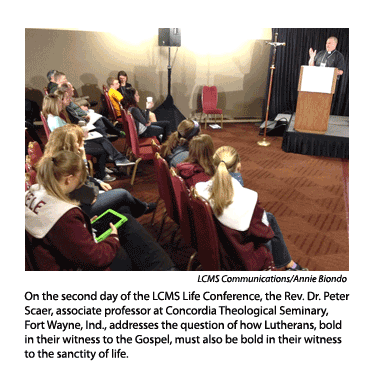 n the March for Life also continued to take part in the LCMS' inaugural Life Conference in nearby Alexandria, Va.
The conference began Jan. 25 with a morning worship service at which LCMS President Rev. Dr. Matthew C. Harrison preached. (To view a video of the sermon, click here.)
The conference, "Lutherans and Pro-Life Advocacy — Good and Acceptable Service," based on 1 Tim. 2:1-4, is taking place at the Hyatt Regency Crystal City Hotel in Arlington.
"This conference is the perfect way to educate ourselves on the issues and prepare to boldly witness for life to the world in new and effective ways," said Maggie Karner, director of LCMS Life Ministries and conference organizer.
The goal of the conference is to provide individuals, groups and congregations with encouragement to pursue pro-life advocacy at the local, state and national levels; conduct theological discussions; and offer practical suggestions for becoming more active in the public arena.
"Christians have the right and responsibility to participate in government," said LCMS President Rev. Dr. Matthew C. Harrison, when he addressed the conference the morning of Jan. 26.
Other speakers include Dr. Robert Benne, author of Good and Bad Ways to Speak about Religion and Politics; Mollie Hemingway, Lutheran journalist and blogger; Tim Goeglein, vice-president of external rel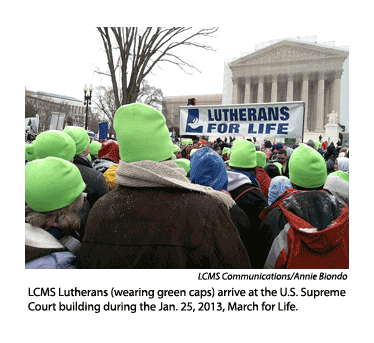 ations for Focus on the Family; and Carol Tobias, executive director of National Right to Life.
Despite the cold, yesterday's March for Life won praise from its participants.
"It's kind of amazing to see so many people who are willing to put up with the snow and the cold and the freezing temperatures, to give a chance to an unborn baby," said Prince Solomon, a student at Concordia University Wisconsin (CUW), Mequon, Wis. Solomon traveled to Washington with the Students for Life chapter from CUW.
"It was amazing to see the numbers of people who came out to take a stand. We'll keep coming back as long as we have to," said Deaconess Kim Bueltmann, campus ministry assistant at CUW. "Obviously, we hope the law will change, but if it doesn't, we hope that hearts and minds will change. It's important for us [the LCMS] to keep reaching out to people facing tough decisions [such as abortion] with the love of Christ."
The LCMS Life Conference concludes Jan. 26 with evening worship. For more information about the conference and the March for Life, visit www.lcms.org/life.
Laura J. Seaman is staff writer for LCMS Communications.
Posted Jan. 26, 2013