William "Bill" Cochran of St. Louis and the Rev. Robert "Bob" Riggert of Manning, Iowa, have been named to receive Lutheran Education Association's top honor, the Christus Magister Award. They are among eight educators to receive LEA's education awards for 2013.

Cochran is director of School Ministry with the LCMS Office of National Mission and Riggert retired two years ago as executive assistant for Youth, Education and Stewardship wi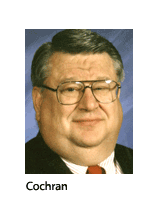 th the LCMS Iowa District West. Riggert continues to serve as district consultant for Early-Childhood Ministries and as director of Congregational Services with Lutheran Church Extension Fund for that district and the LCMS Iowa District East.

Since 1965, the Christus Magister Award has been presented to Lutheran educators who have made significant contributions to Lutheran education. The six other LEA awards given this year are in specific areas of Lutheran education, and their recipients are chosen by LEA "network leadership teams" in those areas.

Before becoming the Synod's director of School Ministry in 2002, Cochran held a number of teaching and administrative positions at Lutheran schools and churches in Missouri and Illinois and served as the LCMS Eastern District's Education executive.

LEA's news release announcing this year's awards notes that "Cochran has a distinguished ministry in leadership. Among his many contributions, he was co-founder of programs such as School Leadership and Development (SLED), Leadership with Purpose and three funding academies. He authored "Leadership and How to Start a Lutheran School" for the LCMS Administrator's Handbook and co-authored School Leadership and Mentoring (SLAM). Bill has visited many district teachers conferences, often providing presentations that were both informative and entertaining – and always Christ-centered."

The release quotes a colleague of Cochran who supported his nomination for the award, by saying that he is "a leader passionate about Lutheran schools an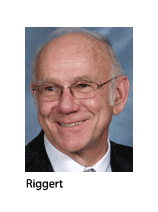 d willing to help educators succeed. Bill is a humble servant leader."

Cochran is also quoted in the news release that one of his greatest joys in ministry is "the freedom and ability to share the saving Gospel message of Jesus Christ with students, parents, teachers and administrators." Other "great joys" he lists are "helping teachers grow into leadership positions, visiting Lutheran schools and observing their programs in action, and working with district education executives."

Riggert also has served as a Lutheran pastor, principal and teacher in Iowa, Indiana and Ohio.

"Rev. Riggert has distinguished himself in various segments of Lutheran education," according to the LEA news release. "He was an officer of the Conference of Education Executives (CONFIDEX), Bible study author and leader for National Children's Ministry Conferences ([in] 2008 and 2011), contributing author of Learning at the Foot of the Cross: A Lutheran Vision for Education, member of [the] LCMS School Ministry cabinet and author of National Lutheran Schools Week materials. He was on the LEA convocation planning team (2008) and has written several LEA monographs. He was also part of a district volunteer team that developed 14 [vacation Bible school] curriculums. In 2006, Bob coordinated a mission team to schools in Banda Aceh, Indonesia."

In support of Riggert's nomination, a colleague wrote, "Bob was open and understood churches and schools equally. Bob also encouraged and built up principals, staffs and boards. He could easily be a walking billboard for Lutheran schools."

Commenting on his greatest joys in ministry, Riggert identified "working with dedicated local, district and synodical partners in developing two national children's ministry conferences and associating with Lutheran school teachers who humbly served Jesus and creatively shared His love with children," the release notes.

The other 2013 LEA educator awards and recipients are:
Distinguished Lutheran Elementary Administrator — Rob Cooksey, executive director of Christ Community Lutheran School, Kirkwood, Mo.
Distinguished Lutheran Early Childhood Administrator — Lee Wagner, early-childhood director of Immanuel Lutheran School, St. Charles, Mo.
Distinguished Lutheran Elementary Teacher — Mark Koschmann, middle-grades teacher at St. John Lutheran School, Midland, Mich.
Distinguished Lutheran Secondary Educator — Doug Braun,theology teacher at Faith Lutheran Middle and High School, Las Vegas.
Distinguished Lutheran Early Childhood Teacher — Kathy Unverfehrt, second-grade teacher at Concordia Christian Day School, Conover, N.C.
Distinguished Retired Lutheran Educator — Ron Royuk of Seward, Neb.
This year's award recipients will be presented their award citations individually. They also will be recognized along with awardees from the two previous years during LEA's triennial convocation, Oct. 24-25 in Milwaukee.

LEA is an LCMS Recognized Service Organization.

Posted Jan. 25, 2013