A new website at lcms.org/lifeconference offers photos, videos and sermon transcripts from the Jan. 25-26 LCMS Life Conference in Arlington, Va., "Lutherans and Pro-Life Advocacy — Good and Acceptable Service."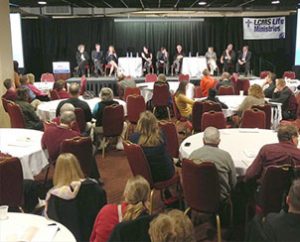 The conference offered tips for individuals, groups and congregations on pro-life advocacy at the local, state and national levels, and discussed theological motivation, encouragement and practical suggestions for becoming more involved in the public arena.
The first LCMS conference of its kind, the event sponsored by LCMS Life Ministries drew more than 300 participants. It was held in conjunction with the annual March for Life in Washington, D.C., which protests the U.S. Supreme Court's 1973 Roe v. Wade decision legalizing abortion in the United States.
Resources offered at the "Virtual Life Conference" website include videos of:
the pre-March for Life divine service.
LCMS President Rev. Dr. Matthew C. Harrison's keynote address, "Why and How the Church Engages: Witness, Mercy and Our Life Together in View of the Public Square."
the conference panel discussion on "Engaging in the Public Square — Vocation in Action."
"Good and Bad Ways to Think about Religion and Politics," a workshop for adults led by Dr. Robert Benne, director of the Center for Religion and Society at Roanoke College in Salem, Va.
a student workshop on witnessing for life led by the Rev. Dr. Peter Scaer, associate professor of exegetical theology at Concordia Theological Seminary, Fort Wayne, Ind.
a student workshop led by the Rev. Jonathan Fisk, pastor of Bethany Lutheran Church in Naperville, Ill., titled "You and Your World: Speaking Your Soul, But Using Your Mind."
a student workshop on organizing "Students for Life" chapters, led by Rebekah Barnes, northwest regional coordinator for Students for Life of America.
The website also offers photos from the conference and march, a link to video interviews, a PDF of the 2013 March for Life essay by the Rev. Terry Forke, president of the LCMS Montana District, and information about the next March for Life on Jan. 22, 2014.