Children excited about their first day of school; spying a monkey in a tree; eating fresh mangoes; making amaquinas — deep-fried donuts — at a local "tuck shop," or grocery; distributing school uniforms and shoes to students; painting a home; visiting neighbors; teaching Bible stories to young children.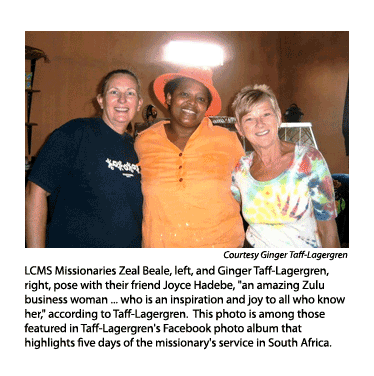 LCMS Missionary Ginger Taff-Lagergren shares those scenes and more from her service in South Africa in a Facebook photo album that documents five days in January (click here). (If you do not have a Facebook account, click here.)
"Each week holds so many stories. These are only a few. Thanks for sharing in this one — January 14 to 18, 2013," writes Taff-Lagergren, now 66, who began her 18-month service as a GEO (Globally Engaged in Outreach) missionary Sept. 1, 2011. She plans to conclude her service on the field March 1.
Taff-Lagergren — known as "Gogo Ginger" ("Grandma Ginger" in Zulu) — and fellow missionary Zeal Beale spent the first three months of their service at the Lutheran seminary in Pretoria, learning about the country and the Lutheran Church in Southern Africa, the LCMS partner church the two missionaries serve. The 13 seminary students they met "remain in our hearts," Taff-Lagergren told Reporter, and she and Beale have stayed close to them via the Internet.
But the bulk of their work has been in the village of Ntshongweni, serving the local Lutheran church and its créche, or preschool.
"Working with the teachers in the créche, we have tutored the children, and led weekly chapel watching their eyes light up as they hear the wonderful Bible stories and sing songs about Jesus with such enthusiasm," writes Taff-Lagergren. "During these 15 months, we've led five weekly vacation Bible school programs during the five school breaks. Over 100 children wind their way to the church to discover the joy of worshiping, singing and playing together in God's world!
"From the church and créche, Zeal and I have had the privilege of walking the hills and valleys to read English with the children at the primary schools, visiting families to provide spiritual and physical needs — delivering donations from so many caring and loving people both in South Africa and America, and building friendships throughout the community with children, teens and adults. I love hearing the greeting called out across the hillside, 'Gogo Ginger, hello!' and look to see a child, teen or adult waving and smiling at me. What a feeling of belonging!
"Zeal and I have had the joy and honor of sharing in traditional Zulu and Lutheran weddings, traditional gift-giving (American equivalent of a wedding shower), traditional 'coming of age' celebrations as girls turn 21 years old, celebrating newborn babies and becoming immersed in the community to the point we have forgotten we are the only white people anywhere within a 10-mile radius. We have also shared in the sorrow of more deaths than I care to remember. HIV/AIDS has ravaged this community. Gogos (grandmothers) find themselves raising second and third families, when they thought their sons and daughters would be providing for them.
"The poverty and lack of jobs facing families in Ntshongweni is heartbreaking. However, the hope they find in Jesus' love enables them to face each day with determination. This is so very heartwarming and inspiring. I have learned so much from these resilient, strong Zulu men and women. Riding with them every day in the 16-passeger vans — taxis — we've become friends with the drivers and regular passengers, held their babies on our laps, laughed over everyday stuff, handed out Bibles, given an occasional shoulder to cry on, given lots of hugs and learned how to count our South African coins! It has been a privilege to live and work in this community with Pastor Thwala as our spiritual leader.
"As I transition back to the U.S., I'm thrilled to be seeing my family and friends again — and I'm saddened to be leaving my new family and friends. Yet I'm excited about the work I can do for them from home in Rochester, Minnesota. We are now family — together."

Jennifer Prophete, program manager for short-term missionary service with the LCMS Office of International Mission, told Reporter that missionaries are needed to serve one week, two weeks, two months, a year or as a career.
"If you are interested in serving the Lord internationally like Ginger and Zeal, the LCMS needs you!," Prophete said.
For information, call 888-THE-LCMS (843-5267) or send an email to mission.recruitment@lcms.org.
Posted Feb. 18, 2013