By Laura J. Seaman
ST. LOUIS — The LCMS continues to face a dire need to recruit church workers, including missionaries — a topic of concern addressed by the Board for International Mission (BIM) at its meeting here Feb. 8-9.
"We have a wonderfully large opportunity to recruit pastors and lay missionari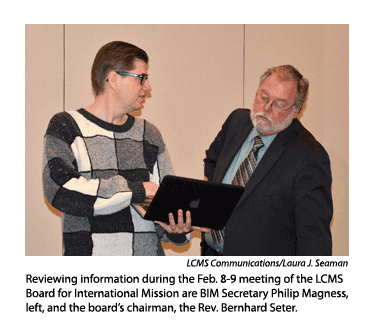 es," the Rev. Randall L. Golter, the new executive director of the LCMS Office of International Mission (OIM), told the board. "It's time we do a full-court press on recruitment."
LCMS Chief Mission Officer Rev. Gregory K. Williamson echoed Golter's concern with information from the Concordia University System (CUS), pointing out that the count of pre-seminary candidates in the CUS is down to 178 students this academic year, from 446 students in 2001.
"We [do] get seminary students from other places," Williamson said, "but these numbers are troubling."
Both Williamson and Golter emphasized the importance of sustaining strong relationships with the two LCMS seminaries and 10 CUS schools to build students' interest for the mission field.

This was the first BIM meeting after Golter's installation in late October.

The Rev. Dr. David Birner, who served as the OIM's interim executive director, began serving Feb. 18 as executive director of International Education at Concordia University Wisconsin, Mequon. In his new position, he will play an integral role in helping to identify and develop students for future mission work.

Williamson expressed his deep gratitude for Birner's service to the board and welcomed Golter as "a great addition to our team."

The board asked Chairman Rev. Bernhard Seter to convey its thanks and appreciation in a letter to Birner.

Calls, appointments

After discussing the need for recruitment, the board voted to extend seven missionary calls and appointments, including:
four career missionaries — two called (to the Asia Pacific and Southern Asia Regions) and two appointed (Asia Pacific and Latin America).
two Globally Engaged in Outreach (GEO) missionaries — called (both to Africa).
one international educator — called (Asia Pacific).
In addition to missionary calls, the board endorsed one military chaplain candidate.

The board also addressed the topic of missionary safety and security.

The Rev. Dr. Edward Grimenstein, director of Missionary Services with the OIM, presented the office's program for deployed missionary security and safety. The program details the security measures for all LCMS missionaries and their families, including monitoring criminal and terrorist activities, processes to remove them from the field in such situations and actions that would be taken to repatriate them.

"The safety of our personnel is, of course, a high priority," Golter later told Reporter.

The Rev. Mark Schreiber, the Synod's director of Ministry to the Armed Forces (MAF), explained to the board the call and vetting process for military chaplains serving MAF. The board reviewed its policy on this process and posed possible changes. As a result, it approved processes for calling military chaplains that enhance MAF endorsing procedures.

Also approved was the draft of a new protocol document with Hong Kong International School.

Policies drafted by the board will be submitted to the LCMS Commission on Constitutional Matters and the Synod's Board of Directors for final approval. Upon approval, the BIM's initial policy drafting process will be complete.

BIM members heard a theological presentation by Golter titled "Lutheran Mission: A Simple Look."

"The heart of mission is God speaking people righteous," Golter said. "Those who are gathered don't assemble themselves, but it is God speaking that causes a holy assembly and that is the Church."

Golter concluded his theological presentation by summing up the overall theme of the meeting with a call to action. He emphasized that mission work comes not only from professional educators, but also from throughout the Church, including board members. "It's time to put our feet to the fire on recruitment," he said.

The next BIM meeting is set for May 30-31 here.

Laura J. Seaman is a staff writer for LCMS Communications.
Posted Feb. 18, 2013