The National Lutheran School Accreditation (NLSA) commission recently selected nine Lutheran schools in the United States for special recognition as "exemplary accredited schools."
All nine schools are operated by LCMS congregations or associations of LCMS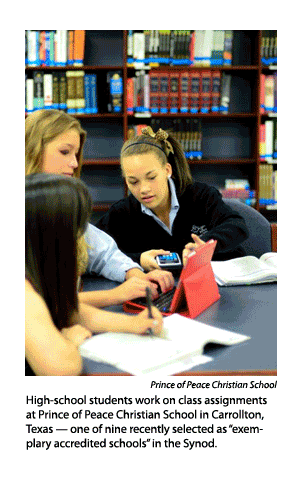 congregations. They received NLSA accreditation last August — preliminary to being named exemplary schools for recognition during the 2013-14 academic year.
"These schools demonstrated compliance with NLSA accreditation criteria that exceeded expectations related to the educational and ministry standards required for accredited schools, explained NLSA Director Terry Schmidt, who also is the LCMS assistant director of School Ministry.
"In addition," Schmidt said, "each school demonstrated innovative leadership through the implementation of NLSA 'Best Practices' related to the academic quality and spiritual development of its students."
The following schools were selected to receive the award during the 2013-14 academic year:
Christ Lutheran School, Phoenix;
Concordia Lutheran High School, Tomball, Texas;
Crean Lutheran High School, Irvine, Calif.;
Faith Lutheran School, Lincoln, Neb.;
Prince of Peace Christian School, Carrollton, Texas;
Shepherd of the Desert Lutheran School, Scottsdale, Ariz.;
Shepherd of the Desert Lutheran Preschool, Scottsdale;
St. Peter Lutheran School, Columbus, Ind.; and
Trinity Lutheran Early Childhood Center, Clinton Township, Mich.
"With this honor comes additional responsibility," Schmidt added. "In the current 2012-13 academic year, the leaders of these schools will now be required to intentionally share their Best Practices through print articles and webinars prepared for potential use by other Lutheran schools. Sharing Best Practices provides opportunities and ideas that have the potential to improve all of our schools."
National Lutheran School Accreditation, based in St Louis, encourages and recognizes schools that provide quality Christian education and engage in continuous improvement. NLSA accredits 694 schools in the Synod that have chosen to undergo vigorous self-study and evaluation. Currently, there are more than 2,300 LCMS preschools, elementary schools and high schools in the United States.
For additional information, contact Schmidt at terry.schmidt@lcms.org.
Posted Feb. 21, 2013 / Updated Feb. 27, 2013