President Barack Obama has nominated the Rev. Dr. Daniel L. Gard, an LCMS chaplain in the U.S. Navy Reserve and professor of Exegetical Theology at Concordia Theological Seminary, Fort Wayne, Ind., to serve as a rear admiral (lower hal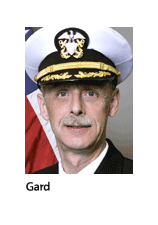 f) in the role of deputy chief of chaplains for Reserve Matters, U.S. Navy.
Gard's nomination as rear admiral, the highest rank for a chaplain in the Navy Reserve, must be confirmed by the U.S. Senate.
U.S. Secretary of Defense Leon E. Panetta announced the promotion, along with several others, Feb. 14.
Gard said he is humbled by the opportunity that awaits him.
"To be a pastor is the greatest honor a person can have and then to have been sent in uniform to minister to America's magnificent men and women who risk all for freedom is a privilege beyond what I deserve," he said. "All I can say is 'Soli Deo Gloria' — to God alone be the glory!"
Gard is completing a tour of duty as Joint Task Force Guantanamo chaplain, Joint Task Force, Guantanamo Bay, Cuba. He will resume his seminary teaching duties during Holy Week. He also is the dean of Military Chaplaincy Programs at Concordia Theological Seminary (CTS).
"Dr. Gard's service to this seminary, the church at-large and to his country has been exemplary and provides an excellent example of a good and faithful servant of Jesus Christ," said CTS President Rev. Dr. Lawrence R. Rast Jr. in a seminary news release.
Gard asked for prayers that he be a "faithful servant of our Lord."
"God has blessed me with a wonderful wife and family and with the support of a unique community of faith, study and prayer at Concordia Theological Seminary in Fort Wayne," he said. "There we have a mission that is unequaled in this world — to form servants in Christ Jesus to teach the faithful, reach the lost and care for all."
To read the U.S. Navy's release about Gard, click here.
Posted Feb. 21, 2013