By Sarah Schafer
WASHINGTON, D.C. — More than 350 people from across the nation donned neon-green hats reading "March for Life with the LCMS," braving snow and freezing temperatures for the national "March for Life" here Jan. 25.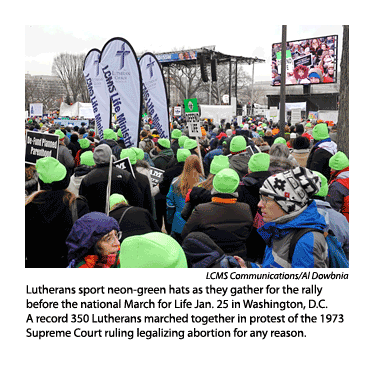 A record 500,000 are estimated to have participated in the annual march — in a line stretching from the National Mall to the steps of the U.S. Supreme Court building – for the 40th anniversary protest of the Roe v. Wade Supreme Court decision legalizing abortion for any reason. Since the 1973 decision, more than 53 million children have been aborted in the United States.
"We as citizens of the United States have a right and also a responsibility to protest injustice," said LCMS President Rev. Matthew C. Harrison during a video interview from the March for Life — his first.  "The injustice of 53 million unborn people murdered is something we need to stand up for and say there's got to be a better way,"
This year also marked a record Lutheran turnout. Many first-time Lutheran marchers also attended the first-ever LCMS Life Conference scheduled in conjunction with the March for Life. Held at the Hyatt Regency Crystal City Hotel, Arlington, Va., Jan. 25-26, the conference equipped participants for pro-life advocacy, "a good and acceptable service," according to the conference theme based on 1 Tim. 2:1-4.
About 15 Lutherans first began participating in the march as a group during the mid-1990s, according to Rev. Dr. James Lamb, executive director of Lutherans for Life. About 120 Lutherans participated in 2012.
For this year's Lutheran group, an annual Divine Service at the hotel, with Harrison preaching, began their involvement in the conference and the march. Additional chairs brought into the worship space could not accommodate the larger-than-expected crowd, with many standing for the service.
"The secret for us, my friends, in this dark day — living a Good News life in a bad-news world — is knowing that every human being is created in God's own image and therefore valuable," Harrrison said. "The secret to a joyous and meaningful life is the realization that because Jesus Himself took on human flesh from conception and because Jesus valued every human life — especially those worthless in the eyes of the world — each and every human life is temporally and eternally precious — no matter how old, how young or how imperfect. The secret to a joyous life worth living is acting on behalf of those who cannot act for themselves."
Following the service, the group traveled to the National Mall for a rally before marching past Congressional offices and the U.S. Capitol and to the steps of the U.S. Supreme Court building.
Elizabeth McGrath of Stuckwich, Ind., took vacation time from work to attend her first March for Life with six others from Emmaus Lutheran Church, South Bend, Ind. She commented on the Acts 9:1-22 and Galations 1:11-24 readings of Paul's conversion from the morning's worship. "God totally changed the heart of Saint Paul, and He can now change hearts for life."
The Rev. Christopher Stout — pastor of Mount Calvary Lutheran Church in Kannapolis, N.C., and Abundant Life Lutheran Church in Charlotte, N.C. –and his wife, Kelly, bundled up their sons, Solomon, 2, and Henry, 1, to participate i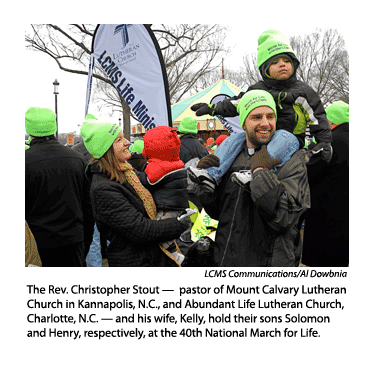 n their first march. Solomon was adopted as a newborn, making the pro-life issue close to the family. Balanced on their double stroller was the sign "Choice is beautiful. Choose to parent or choose the parents."
Dr. Donna Harrison, an OBGYN who also is a member of Emmaus in South Bend, Ind., was participating in her third March for Life, along with her two children. She serves as the director of research and public policy with the American Association of Pro-life OBGYNs, which provides pro-life, peer-reviewed medical research for OBGYN doctors. Harrison said she is "excited and proud" to be a member of the LCMS at this time and praised Synod leaders for championing life issues.
Dottie Enters came to the march to be reminded of the importance of the issue. "The government doesn't set the value of human life, God does," said Enters, who has worked for pro-life ultrasound clinic Eye Witness for Life in Milwaukee for more than 20 years. Enters is a member of Berea Lutheran Church in Milwaukee, Wis. Statistics show 80-percent of women considering abortions choose life once they see their unborn child via ultrasound.
The Rev. Steven Cholak, project coordinator for Special Ministries with the LCMS Office of National Mission — Youth Ministry, commented on the generations of people involved in the march in a video interview.
"We have elderly, we have even little kids, infants strapped to their mothers' chests. …We talk a lot about intergenerational ministry lately in youth ministry; and to see us together for this one cause, so many people here braving the snow and the cold for life," Cholak said.
Many marchers commented on the large turnout and passion for the pro-life issue among youth.
In its first year of operation, Redeemer Lutheran High School in Oakmont, Pa., was represented at the march by nine of its 12 students.
Thirty-five students from the Students for Life group at Concordia University Wisconsin (CUW) in Mequon, Wis., also participated, including three non-Christian students from China, where abortion is legal.
"People [in China] don't talk about the negative aspects," said Ning Ma, a senior mathematics major at CUW.
"The march makes people think about it," said Bayan Jiayilawa, a junior finance major there.
Last year, sophomore Michael Ersland was the single male CUW participant at the March for Life. This year, he was one of 14 — including Kyle Rettinger, a junior business major. They both carried LCMS Life Ministries banners for the march.
Several LCMS marchers focused on the need for changing legislation.
Cindy Roley, a member of Grace Lutheran Church, Effingham, Ill., who volunteers at her local crisis-pregnancy center, said it is "important at this time in our nation's history to stand up and make a statement."
"I will fight to make sure all legislation is changed and that we will be able to respect life the way that God respects life," said CUW Students for Life President Bethany Janssen, who said that is her motivation for marching.
The day after the march, President Harrison was greeted with applause from Life Conference attendees when he said, "This was my first march, but I intend to come back and bring friends."
At the Jan. 26 closing session of the conference, the Rev. John Fale, associate executive director of LCMS Mercy Operations, encouraged attendees to follow the theme "each one, reach one"; to return to the March for Life next year and bring someone with them.
For complete LCMS coverage of the march, including photo and video galleries, visit www.lcms.org/marchforlife.
Sarah Schafer is a freelance writer based in Fairfax, Va., and a member of Prince of Peace Lutheran Church, Springfield, Va.
Posted Jan. 30, 2013