Take a trip back in time at the Saxon Lutheran Memorial's annual Fall Festival, to be held from 9 a.m. to 4 p.m. on Saturday, Oct. 12.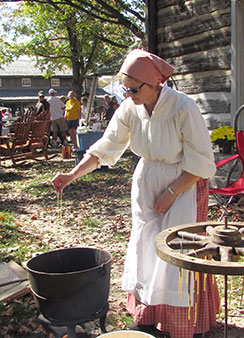 See demonstrations of activities common in the mid-1800s, such as blacksmithing, quilting, cross-cut sawing, cider-pressing, bread-baking, butchering, apple-butter-cooking, spinning and making brooms, shingles and soap.
The festival also offers horse-and-buggy rides, a silent-auction, skits, live music, food and handmade crafts.
"We hear time and time again how much people appreciate having such a valuable site preserved and that they truly enjoy not only hearing the stories, but being able to visit and see first-hand an original, authentic home and farmstead where a family of the Saxon immigration actually lived," said the memorial's Curator Lynda Lorenz. "It's valuable to the people who come, the people whose family heritage is rooted in this area and to the church at-large."
Located in Perry County's Frohna, Mo. — a little more than an hour's drive south of the St. Louis area — the Saxon Lutheran Memorial is an outdoor history museum and log cabin village that commemorates the 1839 arrival of more than 600 Saxon immigrants who left Germany for religious freedom in the United States.
The memorial is owned and operated by the Concordia Historical Institute, the Synod's Department of Archives and History.
This fall marks the festival's 33rd year — "a long-running history of sharing our past through the activities of the day: German song, 1840 skills and trades, period clothing, crafts and great food," said Lorenz. "Please make sure you put this on your calendar — it's a fun day you simply won't want to miss!"
Festival admission and parking are free. The event is sponsored, in part, by Thrivent Financial for Lutherans, but free-will offerings will be accepted.
For more information about the festival or the Saxon Lutheran Memorial, visit saxonlutheranmemorial.org or call 573-824-5404.