Dr. Tom Cedel, president of Concordia University Texas in Austin, Texas, for more than a decade, has announced that he will retire Aug. 1, 2014.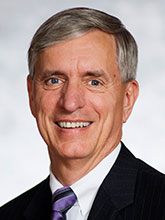 On Aug. 23, the university's Board of Regents accepted Cedel's retirement and launched a nationwide search for the school's next president.
"Concordia has experienced incredible growth under Tom's leadership, becoming a recognized leader for Christian education in the Austin community as well as the church system," said the Rev. Ken Hennings, president of the LCMS Texas District. "It has been my pleasure to work with someone of this caliber who is passionate about Christian education and leadership. Tom has positioned the university to take the next step in excellence and expansion as it carries out its mission of developing Christian leaders."
During Cedel's tenure, the university moved in 2007 after 80 years on a 23-acre campus in Central Austin to its current home, a 389-acre property in North Austin. Concordia University Texas experienced gains in undergraduate and graduate-level admissions, growing from 1,073 students in 2002 — Cedel's first year as president — to nearly 2,600 students in 2013; increased fundraising; and added new programs of study, including a Baccalaureate of Science in Nursing program in 2008 and a Master's of Business Administration program in 2010.
Cedel and his wife, Penny, launched the Excellence in Leadership program in 2007 to recognize a Christian leader in the community each year while raising funds for the university's scholarship program.
Cedel, now 64, joined Concordia University Texas as president after serving as chief academic officer and dean of the School of Arts and Sciences at Concordia University in Ann Arbor, Mich.
"It's been my great honor and privilege to serve as Concordia University Texas' president during these years of exceptional growth and success," he said. "The faculty and staff are second to none. I'm certain Concordia will continue to excel in its mission and prosper under its next leader. I look forward to working with the university's Board of Regents to help identify that person."
A retired Air Force colonel and fighter pilot, Cedel commanded a fighter squadron and was vice-commander of a fighter wing in various parts of the world including Pakistan, Japan, Korea, Europe and the Middle East. His awards include the Defense Superior Service Medal and the Legion of Merit.
Cedel received his Ph.D. and undergraduate degree in biology from the University of Pittsburgh. He also attended the Industrial College of the Armed Forces and the Massachusetts Institute of Technology, where he completed Seminar XXI, International Relations.