Concordia Seminary, St. Louis, will host the Third Triennial Hispanic Lutheran Theological Consultation from 1 p.m. March 11 to noon March 12. The theme of the bilingual (English and Spanish) consultation is "Immigrants Among Us: Theologic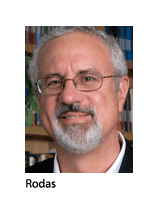 al and Pastoral Implications for Working Among Immigrant Neighbors."
The consultation includes the Center for Hispanic Studies' Eighth Annual Lecture in Hispanic/Latino Theology and Missions at 7 p.m. March 11. The lecture will be delivered in English, with an outline provided in Spanish.
Lecture speaker is Dr. M. Daniel Carroll Rodas, Distinguished Professor of Old Testament at Denver Seminary, who will address the topic "Foundations for a Biblical Theology of Immigration." Rodas also serves as immigration spokesperson for The National Hispanic Christian Leadership Conference, the nation's largest Christian Hispanic organization.
The Hispanic Consultation will include workshops in English and Spanish, including:
"Old Testament Law as a Moral Compass for Modern Immigration Law," led by Rodas.
"Immigrants Among Us: A Lutheran Framework for Addressing Immigration Issues," with the Rev. Dr. Leopoldo Sánchez, director of the Center for Hispanic Studies (CHS).
"Ministering among Hispanic/Latino Immigrant Families," with Prof. Mark Kempff, assistant to the CHS director.
"Lutheran Service and Advocacy with Migrants and Refugees," with Stacy Martin, vice-president for Mission Advancement with Lutheran Immigration and Refugee Service, Baltimore.
Registration is $50 and is available online (click here).
For more information, contact the seminary's Office of Continuing Education and Parish Services at 314-505-7486 or ce@csl.edu.
For more information on the Center for Hispanic Studies, visit http://chs.csl.edu.
Posted March 5, 2013