By Vicki Biggs
On behalf of the Concordia University System (CUS) board of directors, the Rev. Dr. Daniel N. Jastram, the board's chairman, announced Oct. 4 that the Rev. Dr. Dean O. Wenthe has been named CUS interim president, effective immediately.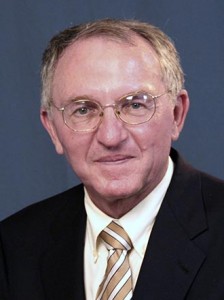 Wenthe, retired president of Concordia Theological Seminary, Fort Wayne, Ind., concurrently was named CUS director for Cooperative Services, a staff position based at The Lutheran Church—Missouri Synod's International Center in St. Louis. Wenthe will hold both positions while the nominations process for the university system's president is re-initiated.
Wenthe succeeds the Rev. Dr. Alan W. Borcherding, who had served as CUS interim president since 2010. Borcherding will continue in his full-time position as CUS director of University Education.
"I am so pleased to welcome Dr. Wenthe to this position," said Jastram. "His many years of distinguished service as a seminary president and professor will serve him well in his new responsibilities and be a great blessing to the university system and the church at-large. I also want to express my sincere appreciation — and the thanks of everyone on the board — to Dr. Borcherding for his service as interim president during this vacancy and for his ongoing work for the university system."
As required by LCMS Bylaws, the appointing of the university system's interim president was made with the concurrence of LCMS President Rev. Dr. Matthew C. Harrison.
CUS is comprised of 10 colleges and universities operating under the auspices of the LCMS. Located across the United States, the schools offer more than 160 undergraduate and 50 graduate programs. While each institution is unique, all 10 campuses offer a learning experience grounded in the Lutheran confessions and with the common goal of developing Christian leaders for service and vocation in the church, community and world.
Vicki Biggs is director, Public Relations, for The Lutheran Church—Missouri Synod.