The Rev. Dr. Eugene W. Linse, who served from 1982 to 1991 as executive director of the Synod's former Board for Social Ministry Services, died May 30 in Mondovi, Wis.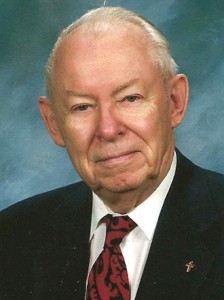 Linse, 91, died "peacefully in his sleep," according to his son, Daniel.
Visitation will be from 4 to 7 p.m. Friday, June 27, at Talbot Family Funeral Home, 679 Hehli Way in Mondovi.
A funeral service is planned for 11 a.m. Saturday, June 28, at St. Paul Lutheran Church (W1320 County Road D, Modena, WI 54755), with visitation for an hour before the service. Burial will follow at St. Paul's Lutheran Cemetery.
Linse was a 1947 graduate of Concordia Seminary, St. Louis, and earned a master's degree in education in 1950 at Northwestern University, Evanston, Ill., and a Ph.D. in political science in 1965 from the University of Minnesota, St. Paul.
He served as a pastor and college professor, was active in politics and shared his experience and opinions as a member of numerous church and civic boards and associations.
Some highlights of his career include:
founding, with other Lutheran leaders, in 1977, Lutherans For Life, a nationwide network of state federations, chapters and Life Teams.
serving as professor of Government and Constitutional Law and head of the Social Science Department at Concordia College, (now University) in St. Paul, Minn. (1956-82).
serving as national president of the St. Louis-based Citizens for Educational Freedom.
establishing the Legislative Intern Program in Minnesota Legislature, serving as president of the Minnesota Federation of Citizens for Educational Freedom, helping to establish the Minnesota tax-credit bill for parents of students in private and parochial schools and the bus transportation bill for students in non-public schools as well as other education and pro-life legislation.
serving as president and chairman of the board of Crestview Lutheran Home in Columbia Heights, Minn.
serving as a board member of the Higher Education Consortium on Urban Affairs, which oversees academic programs conducted by members of the Private College Conference of the Upper Midwest.
establishing the Keys for Christ program to provide seed money for low-income housing projects and serving as chairman of the LCMS Social Concerns Committee.
serving on the boards of Lutheran World Relief, Lutheran Immigration and Refugee Service, Lutheran Resource Commission and Inter-Lutheran Disaster Response.
serving as vice-president of Administration and later as director of Government Relations for VisionAire Corporation, Chesterfield, Mo.
helping to organize and start Cedar Hill Lutheran Church in Cedar Hill, Mo.
LCMS President Rev. Dr. Matthew C. Harrison, who served as the top executive for the Synod's human-care ministries from 2001 to 2010, recalled that "Gene stopped often" at his International Center office to visit, and the two would "go to lunch on occasion."
"His experience was rich and his commitment to Christ and the work of mercy was very deep," Harrison told Reporter. "I'm honored to know him and to have followed him."
The Rev. Richard L. Krenzke was the Synod's top executive for human-care ministries in the 10-year period after Linse's retirement from the post in 1991.
Linse is survived by his four children — Robert (Debra) of Charlotte, N.C.; Pamela (James) Olson of San Diego; James (Marion) of Sheboygan, Wis.; and Daniel of Woodbury, Minn. — 11 grandchildren, four great-grandchildren and one great-great-grandchild. Also surviving are two sisters — Doris Bauer/Marten of Wauwatosa, Wis., and Charlotte Peapenburg of Peoria, Ariz. — and a sister-in-law, Lois Linse of Fall Creek, Wis. Linse's wife, Barbara, died in 2003.
In lieu of flowers, memorials to St. Paul's Lutheran Church, Lutherans For Life and LCMS World Relief and Human Care (aka LCMS Mercy Operations) are welcomed.
Posted June 20, 2014 / Updated July 11, 2014