Alberta Barnes, 10th president of the Lutheran Women's Missionary League, died June 18 in Cleveland. Barnes, 93, served as LWML president from 1983 to 1987.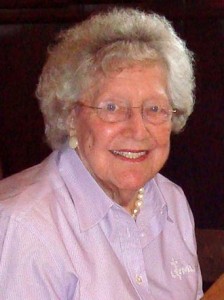 Visitation will be from 2 to 4 p.m. and from 6:30 to 8:30 p.m. on Wednesday, June 25, at Maher-Melbourne Funeral Home, 4272 Mayfield Road, South Euclid, Ohio.
A funeral service is planned for 10 a.m. on Thursday, June 26, at St. John Lutheran Church, 4386 Mayfield Road, South Euclid, Ohio.
Of her accomplishments during her four-year term, Barnes "was especially excited about the LWML gift of $100,000 as seed money for the first in-depth Lutheran Church—Missouri Synod Bible study," according to an LWML news release. "After several years of planning, the LifeLight Bible study became a reality in 1989."
Barnes presided over two national LWML conventions:
in 1985, in Ames, Iowa, under the theme "Give God Glory — Praise His Name!," which holds the record for largest attendance in LWML history — a total of 8,023 registrants.
in 1987, in Fort Worth, Texas, with the theme "Radiant with God's Love," which brought in more than 70,000 quilts for Lutheran World Relief in advance of the event and whose delegates adopted a mission goal of $1 million.
Barnes taught mathematics to engineering students for 12 years. In retirement, she served both the LWML and her community, volunteering with the American Cancer Society, as president of the Federation of Women's Clubs of Greater Cleveland and with the Board of Trustees of a workshop for the mentally handicapped. According to the LWML, "she considered all of these to be opportunities to witness for Christ."
Current LWML President Kay Kreklau, who recently visited Barnes, said, "Alberta loved the LWML with all her heart. Aside from family, LWML was her life. She was a woman whose purpose was to further the mission of LWML in whatever ways she could, and she used the many gifts God gave her to do just that.
"Over the past three years, she uplifted me on many occasions with her notes of encouragement and wisdom," Kreklau continued. "In everything she did, her love for the Lord and His people was evident. I will miss her!"
Former LWML President Janice Wendorf noted that Barnes — the first president of the LWML's Ohio District — had planned to attend the district's 50th anniversary convention June 20-22 in Independence, Ohio.
"I think there will be a few tears," Wendorf told Reporter. "She died two days before the convention."
Wendorf recalled that during her LWML presidency (2007-11) Barnes told her "many times that she prayed for me daily — a gift that I treasured." Along with beautiful handwriting, Barnes had "an amazing mind for details and a terrific memory," Wendorf said, and "she always liked to keep on top of things." As a former LWML parliamentarian, Barnes had even asked Wendorf to bring a copy of the newly updated LWML Bylaws to the Ohio District convention for her!
Barnes was married for 53 years to Ross T. Barnes, who died in 2001. Their son, Paul, was with his mother when she died, holding his hand. Survivors include Paul (Gretchen) Barnes of San Clemente, Calif; two grandchildren — Sarah (Marc) Shulman and Ricky (Jessica) Barnes; great-grandchildren Kylie Barnes and Taliah Shulman; and a sister, Margaret Shortle.
Memorials may be given in Barnes' memory to St. John Lutheran Church in South Euclid, Ohio (see address above); Lutheran Women's Missionary League (click here for information or to donate); and Lutheran Hour Ministries, 660 Mason Ridge Center Drive, St. Louis, MO 63141-8557.
Posted June 20, 2014 / Updated June 23, 2014