The Rev. Dr. Daniel L. Gard has accepted the call to serve as the 11th president of Concordia University Chicago, River Forest, Ill.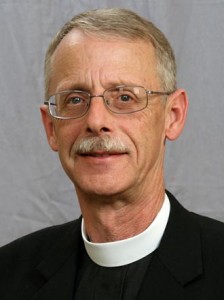 Gard is professor of Exegetical Theology at Concordia Theological Seminary (CTS), Fort Wayne, Ind. He succeeds the Rev. Dr. John F. Johnson, who retired Aug. 16, 2013, after serving as president since November 2004 (click here for story). Dr. Alan E. Meyer, the school's senior vice-president for Planning and Research and executive assistant to the president, has been serving as interim president.
Gard will begin serving in his new position in August. He will be installed during the university's opening service on Sunday, Aug. 24.
"Concordia University Chicago has both a long and distinguished history and a wonderful future in service to the church and our world," Gard said. "As the university concludes its first 150 years, I am profoundly humbled to be a part of launching the next 150 years."
Nominated by President Barack Obama in 2013, Gard serves as Rear Admiral (Lower Half) and only months ago was nominated for and appointed to the position of Deputy Chief of Chaplains for Reserve Matters in the U.S. Navy. In these roles, Gard is responsible for overseeing military chaplain operations in Navy, Marine and Coast Guard Reserve units around the world.
"It is with both joy and sadness that we recognize Dr. Daniel Gard's acceptance of the call to serve as president of Concordia University Chicago," said CTS President Rev. Dr. Lawrence R. Rast Jr. "What a great blessing for Dr. Gard, his family and the CUC community. He will have the opportunity grow in his service to The Lutheran Church—Missouri Synod and CUC will be the recipient of his excellent leadership and pastoral care.
"We at Concordia Theological Seminary will certainly miss our dear friend and colleague. Since 1989, when he joined the CTS faculty, Dr. Gard has served faithfully as a professor in our Pastoral and Exegetical Theology Departments, as well as leading our Military Chaplaincy Program. More than that, he has taken seriously his role in forming servants in Jesus Christ who teach the faithful, reach the lost and care for all."
To read an earlier Reporter story, "Gard elected president of Concordia University Chicago," click here.
Posted June 13, 2014