With registration filled and a waiting list for its July 8-11 youth conference at Mequon, Wis., Higher Things has added its first-ever "campference" July 15-18 at Camp LiWiSoMo in northern Wisconsin.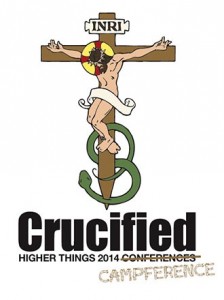 The filled conference will take place at Concordia University Wisconsin in Mequon.
Registration remains open for Higher Things' other 2014 summer youth conferences — set for July 1-4 at the University of Florida, Gainesville, Fla., and July 22-25 at Utah State University, Logan.
Crucified — the theme for all four events — is based on 1 Cor 2:2: "For I decided to know nothing among you except Christ and Him crucified."
"We can't open up any more spots at the Concordia Wisconsin conference since we've reached chapel capacity," said Sandra Ostapowich, Higher Things conference executive. "So, we came up with the creative campference solution."
The Higher Things campference at Camp LuWiSoMo will be structured similarly to this summer's three other Crucified conferences, with specific times designated for worship, Bible studies and entertainment.
"The campference is unique in that entire families are welcome to register, and of course groups can still register as usual," said Ostapowich. "It's also unique in that we won't be staying on a college campus. Limited bunk-style housing and rustic campsites will be available, and groups [or] families may also make their own off-site housing arrangements."
Campference registration is currently open at crucified2014.org and runs $275 per person. That rate increases to $300 on May 1. The registration fee includes all campference programming, activities and meals, as well as printed materials and T-shirts. Registration for the Florida and Utah conferences also is through that website.
Adults may individually register for the Florida and Utah conferences.
For an earlier Reporter Online story about this summer's Higher Things conferences, click here.
Higher Things is an LCMS Recognized Service Organization that holds annual youth conferences and works to promote a distinctly Lutheran identity among youth. For more information, visit higherthings.org.