Bumper stickers. Greeting cards. Home décor. During Advent and Christmas, it's not hard to find such items outfitted with phrases like "Keep Christ in Christmas!" or "Jesus is the reason for the season!" But how does the Christian do that? And is He really?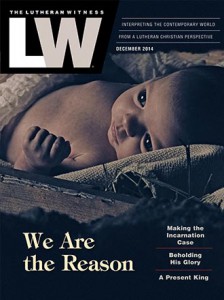 The December issue of The Lutheran Witness answers those questions, starting with articles that focus on Advent, explaining why this particular season of the Church Year causes Christians to repent and wait on Christ.
College students will learn how to articulate the birth of Christ to their friends and professors at college, making the case for the One who takes away the sin of the world, and those who suffer from stress, fear and anxiety — especially during the holidays — will read of Christ's hope and love.
Still wondering how to keep Christ in Christmas? This month's cover story explains that Christ comes to His children in His Supper. Its author, the Rev. Mike Burdick, explains, "The same Jesus of the lowly manger, the cross and the resurrection is present on Christmas morning in our churches."
And for those who are still wondering who exactly is the reason for the season? The reader is! That's why author Rev. Matthew Ruesch reminds subscribers that "the true celebration is the birth of Christ for you."
Visit cph.org/witness to subscribe to The Lutheran Witness or witness.lcms.org to read and share free, web-exclusive content.
Posted Dec. 1, 2014