By Melanie Ave
Improved communication, coordination and collaboration internationally.
Those words describe the main goals of the International Endeavor Conference, held May 29 at the LCMS International Center in St. Louis with Synod, Concordia University System (CUS) and several university leaders.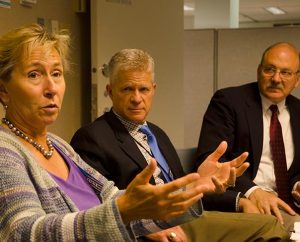 The Rev. Dr. Albert B. Collver III, director of LCMS Church Relations and Regional Operations, said the conference was organized in part because it is important for the Synod, CUS and its universities to be intentional when working with church partners and others overseas.
Additionally, Collver added, many LCMS partners overseas often view any activity by an entity associated with the LCMS — including the Concordias — as official Synod activity.
"My goal is simply: Let's have coordination and let's try and maybe be intentional about … our partners when we can be," Collver told the group. "I don't want to question any of your programs. What I'm simply asking is, when you look at our list of partners, can you possibly consider that for your list of future trips?"
Collver said the Synod desires to be informed about the universities' international work to support it and, ultimately, so the church's reach can be expanded globally.
"We can have a greater impact together," Collver said.
Five of the 10 Concordia colleges and universities were represented at the conference.
In addition to Collver, those attending the meeting included: the Rev. Dr. David Birner, executive director of international education at Concordia University Wisconsin, Mequon; the Rev. Dr. Patrick T. Ferry, president of Concordia University Wisconsin and Concordia University, Ann Arbor, Mich.; the Rev. Randall L. Golter, executive director of the LCMS Office of International Mission; the Rev. Dr. John Mehl, director of mission partnerships and church relations at Concordia University, Nebraska, Seward; the Rev. Dr. Paul Philp, director of institutional research and integrity for the Concordia University System; Dr. Alan Runge, provost of Concordia University Texas, Austin; and Dr. Mary Scott, provost and executive vice-president at Concordia University, Irvine, Calif.
Collver said the meeting — the first one of its kind since the 2010 Synod convention restructuring — was significant.
Those attending the conference voiced support for opening lines of communication.
"I think there's a collaborative spirit of what we might be able to accomplish together," said Scott, of Concordia, Irvine.
Ferry, of Concordia Wisconsin and Ann Arbor, Mich., said many more international opportunities can be tapped by better communication between the Synod and its universities — all of which are involved in various forms of international travel, research and study.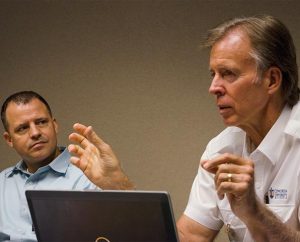 "There is more that we can do in other places in the world," Ferry said. "Our imagination has limited us at this point. With good leadership, I think we ought to really be exploring those possibilities."
The university leaders said their faculty members and students frequently travel abroad for research, study programs, mission trips, exchange programs, internships and other activities.
The LCMS is in partnership with 35 Lutheran church bodies worldwide. It has directors in five regions of the world and missionaries located throughout the world.
"What are your goals with international activities?" Collver asked the group. "What do you hope to achieve as individual universities and CUS? If we know what your goals are, maybe we can line up our goals to help you."
Ferry noted that the most successful initiatives are typically grassroots-based.
"It will just work better if we can buy into it," he said, "and get others to buy into it."
"From my perspective," Collver replied, "we can't do this without your support and cooperation."
Ferry said all of the Concordias desire more success in their various international initiatives.
University leaders expressed a desire to know about LCMS partner churches abroad and to receive suggestions of areas or countries where strategic coordination could be pursued.
"We want to be able to do all we can," Ferry said. "In general, it would help us in the church for the right hand and the left hand to know what is going on, and to be as transparent as possible."
The group discussed several ideas including using university professors as theological educators with LCMS partner churches and their seminaries; recruiting new Concordia graduates as missionaries or teachers overseas; involving Concordia faculty members in overseas mission-work sabbaticals; and encouraging missionaries who are leaving the field to serve as university faculty.
Mehl, of Concordia Nebraska, said former missionaries would be a great benefit to the universities.
"It's clear what an international person brings," said Mehl, a longtime LCMS missionary and former LCMS regional director for Asia Pacific. Missionaries are people who "can make the translations, who can tell the stories and not just what they have read out of a book. That's invaluable," he said.
Moving forward, the CUS' Philp said the CUS will serve as a clearinghouse to funnel information between the Synod and universities. The next step will be the development of a protocol, or procedures, for the Synod and its universities to communicate their international efforts. The Concordias will be asked to provide input on the protocol.
The group expressed a desire to meet annually with more universities represented.
"We want to be resources to you and your institutions, to help facilitate," Philp said. "We are excited about the opportunities."
Melanie Ave (melanie.ave@lcms.org) is a staff writer with LCMS Communications.
Posted June 3, 2014