All LCMS ministries — including congregations, schools, Recognized Service Organizations, district offices and others — are eligible for payroll services at discounted prices with Paychex (a national company with expertise in clergy payroll and taxes), thanks to an arrangement negotiated with Concordia Plan Services (CPS).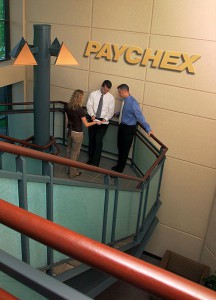 As the CPS "preferred payroll provider," Paychex offers special pricing of up to 35 percent off to LCMS employers.
In addition, for those LCMS employers who also are enrolled in CPS, Concordia Plans will reimburse payroll-service costs for up to 15 employees to the first 250 of those employers enrolling with Paychex for the first time. For this offer, employers must commit by Dec. 31, 2014, to a 12-month service agreement with Paychex and must begin processing payroll by Jan. 31. Also, the $50 setup fee will be waived for LCMS employers enrolled in the Concordia Plans and who sign up as new payroll clients by Dec. 31.
And, LCMS employers who are already Paychex clients can earn a $100 credit for referring another LCMS employer as a new Paychex client.
"Trusted nationwide, Paychex is a leading provider of payroll outsourcing solutions for more than half a million businesses," according to Vicki Helling, payroll program consultant with CPS.
"Paychex aligns with CPS values," Helling said, "and was chosen for its outstanding customer service, experience with the unique needs of church payroll, commitment to business continuity and backup systems, and willingness to provide a dedicated payroll specialist for LCMS organizations.
"Concordia Plan Services knows that many LCMS employers struggle with payroll — paying employees on time, accurately reporting hours of service and staying compliant with filing taxes and paying benefits. Important issues can fall through the cracks and may not be discovered until much later, when penalties may apply," Helling added.
She continued that "while many large employers have more resources and expertise, smaller employers have the same need, and may not have the size or time to negotiate an affordable price for these types of services that include electronic payroll processing, tax filing and reporting, and compliance with IRS regulations."
Helling told Reporter that Paychex payroll services also are integrated with ministry products such as Concordia Technology Solutions' Shepherds Staff®, "which is used by thousands of LCMS churches.
"CPS is happy to offer this resource that best fits the needs of the LCMS ministry, to further our mission across the globe."
For more information or to sign up for any of these offers, call 877-758-0036 (cite reference code 6105) or visit concordiaplans.org/paychex.
Posted July 31, 2014 / Updated August 11, 2014