By Kim Plummer Krull
A Lutheran elementary school "just down the road" helped inspire the top award-winning campaign created by students from Concordia University, St. Paul, Minn., at the third annual — and most competitive to date — Lutheran Church Extension Fund (LCEF) National Student Marketing Competition.
All smiles after receiving their first-place trophy, the Concordia, St. Paul, teammates said the prize also would please staff and parents at St. John's Lutheran School in Chaska.
"They're excited [about the LCEF marketing competition] because they really need help in building awareness," said Amanda Konetchy, one of 34 students from a record eight Concordia University System (CUS) campuses who participated in the competition, April 4, at the LCMS International Center in St. Louis.
To see more pictures and stories about the competition, visit lcef.org, the LCEF Facebook page and http://lcef.smugmug.com/.
This year's challenge: to create a marketing plan with the dual outcome of increasing enrollment in Lutheran schools and building awareness of LCEF as a ministry partner.
Konetchy, a former St. John's student, and her teammates — Kayla Koenecke, Thomas Streed and Matt Buhmann — used St. John's as the springboard for their research. The elementary school is struggling to rebuild enrollment, the students said, after a dramatic drop.
Concordia University, Irvine, Calif. — the reigning champ from the first two competitions — took second place. The Concordia, Irvine, team included: Emma Shockey, Sarah Whitehair, Katryna DaCosta, William McElvaine, Tyler Fewins and Ashley Matsunami.
First-time participant Concordia University, Ann Arbor, Mich., earned third place, with the team of Emily Bearman, Robert Duff, Paula Popa and Aaron Zalewski.
The opportunity for students to gain "not just academic but also real-world experience" and a "great tool" for their portfolios prompted Concordia, Ann Arbor, to debut in the competition, said business instructor Ann Glubzinski.
Another draw is that LCEF "actually implements strategies the students present," said Glubzinski, echoing a comment heard throughout the day. Students "like knowing they're doing something that really makes a difference."
Value of Lutheran education
In his welcome to what he called an LCEF "highlight day," LCEF President and CEO Rich Robertson thanked the students for their hard work.
"It was clear after the first year that we can take advantage of what you present, that we will make changes and learn from your presentations," said Robertson, just back from participating in the groundbreaking for the newest LCMS international school — Concordia International School Hanoi in Vietnam, for which LCEF provided loan support.
Referencing the competition challenge to promote Lutheran schools, Robertson stressed the value of Lutheran education that "allows us to share the truth of the Gospel."
The world needs the Gospel message "more and more," he told the college students, which is why "what you share with us today is so important."
After months of tackling research, crafting catchy slogans, crunching budget numbers and rehearsing deliveries, each team gave a 20-minute presentation before a panel of seven judges, including marketing professionals and church and business leaders.
"Students Cherished. Individuals Grown" was the tag line for the top-winning Concordia, St. Paul, campaign — the result of at least a week of brainstorming over a whiteboard, according to the teammates.
Among their key suggestions: a template from LCEF to help LCMS schools develop better websites, the main tool parents use when researching education options for their children.
As part of their marketing plan, the Concordia College—New York, Bronxville, team urged LCEF to post on the nonprofit side of YouTube and create the ministry's own Quick Response Code (QR), the barcode popular for readability and big storage capacity that's scanned by smartphones.
Hai Bui, a junior from Vietnam, told how the Concordia, Bronxville, teammates — all international students — juggled hectic class, sports and job schedules to carve out time to work together on their campaign. "A lot of late library sessions and all-nighters," she explained.
Also competing for the New York campus were students from Lithuania, Northern Ireland and Africa. Along with researching LCEF and LCMS schools, Carl Mutuhurabagenzi needed to "figure out what is a Lutheran."
"We don't have any in my country," said Mutuhurabagenzi, who came to Bronxville from Burundi, Africa, after seeking a small, religious-based college on the U.S. East Coast. "I understand now.
Future of our church
The students also gleaned a better understanding of LCEF.
Zoe McMiller, an LCMS member, said she "had no idea what LCEF was" before tackling the marketing assignment with her Concordia University Wisconsin, Mequon, Wis., teammates.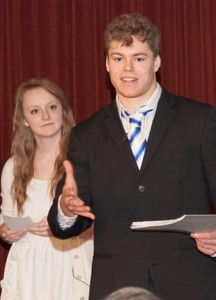 "That made me realize how much we need to help them out," McMiller said.
On the other hand, Concordia, Irvine's Emma Shockey said she knew LCEF was "a financial company" that had helped her congregation, St. Peter's Lutheran Church in Edina, Minn.
"But what I didn't know is how much they care," Shockey said about LCEF. "They care about so much more than just getting their loans paid back."
Also participating in the marketing challenge were returning competitor Concordia University Chicago, River Forest, Ill., and first-timers Concordia University, Nebraska, Seward, and Concordia University, Portland, Ore.
Another competition first was students from three St. Louis area Lutheran high schools invited by LCEF to see the presentations — and to see CUS students in action.
"Holy cow! What a lot of work!" exclaimed Emily Odegard, a Lutheran High School South senior after watching the polished deliveries by young adults garbed in business attire and armed with iPads and PowerPoints. "I'm so impressed with the amount of research and how well they put everything together!"
The judges agreed. Becca Jones, LCEF senior vice-president, Marketing and Customer Support, said the competition was tight and quality high.
"It's so encouraging to see the future of our church reflected here tonight," Jones said after presenting the awards at the evening dinner. "What the students worked on so hard absolutely will make a difference. Now we're the ones who have our work cut out for us."
LCEF presented cash prizes ranging from a $5,000 first-place award to $750 participation prizes. But Dr. Nancy Harrower, Concordia, St. Paul, marketing professor, said the students gained more than financial rewards for their schools.
"They walk out of college with something impressive for their portfolio," said Harrower, who has brought students to each of the three competitions. "When their [future] boss says, 'Go research this and develop a presentation on that,' they can say, 'OK, I can do that.'"
"LCEF has given a great gift to our students and to our schools," the professor added.
To view a video with highlights of the presentations and awards dinner, visit lcef.org or click here.
Kim Plummer Krull is a freelance writer and a member of St. Paul's Lutheran Church, Des Peres, Mo.
Posted April 23, 2014 / Updated April 25, 2014