"The 72" is seeking retirees who are passionate about Christian outreach to join its nationwide outreach ministry as team members.
The 72 accepts and trains volunteers to serve on teams on-site with Synod congregations and help equip their members for outreach in their own communities.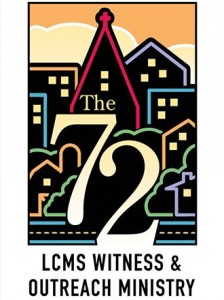 "This is a ministry that is so vitally, vitally important when you think of all the people who don't know Christ as their Savior," said the Rev. Al Tormoehlen, director of The 72, part of the LCMS' Witness & Outreach Ministry.
"Our country is a mission field," he said. "Statistics tell us it's the third-largest mission field today [behind China and India]. It will continue to grow with more immigrants coming in of various nationalities that are moving right into the backyard of congregations."
The 72 is seeking about 20 volunteers to attend its next training event, set for Sept. 8-12 at The Shrine of Our Lady of the Snows in Belleville, Ill. Costs for the training are covered by The 72, including the training event itself, transportation, lodging and meals.
A 72 team typically visits two congregations a year, staying for two to three weeks per visit. The host congregation covers the costs of the team's housing, transportation during the local training, meals and supplies.
The teams help equip individuals through Bible classes and workshops that have been designed to meet the outreach needs and goals identified by congregations that request a visit. The teams also encourage congregation members to confess the Christian faith confidently in a non-confrontational manner.
Volunteer teams, which include many husbands and wives, are asked for a minimum two-year commitment.
Currently, about 60 trained individuals are volunteers for The 72. Teams have served more than 230 congregations since the program began in 1996, when it was known as "Harvesters for Christ."
David and Deanna Allen of Locust Grove, Va., have been serving The 72 for six years. The Allens, members of Redeemer Lutheran Church in Fredericksburg, Va., have visited four congregations as a team.
"It's a wonderful ministry for the churches we serve," said David Allen, a retired U.S. Marine officer. "It's also rewarding for those of us who serve with The 72. We get to make new Christian friends during each assignment."
Those who are interested in joining a team are encouraged to fill out an application. After applications are received, The 72 requests two letters of reference. Those accepted for the training will be notified by email or mail.
To be eligible to attend the September training, all applications must be postmarked by May 15.
Congregations interested in having a team visit with their members also are encouraged to contact The 72.
To download a free bulletin insert that explains the program, click here (see "Recruitment Insert" under "Resources" at bottom of page).
For more information about The 72 or to request an application, call 800-433-3954, ext. 1732, send an email to Robbie.Clasen@lcms.org or visit lcms.org/the72.