By Melanie Ave
As 2014 comes to a close, the Synod's executive director of fundraising and donor relations offers advice for those considering year-end contributions.
First, continue to plan ahead, said Mark Hofman, executive director of LCMS Mission Advancement. He said it's tempting to wait until the last minute, but there are risks to not planning ahead as Dec. 31 approaches.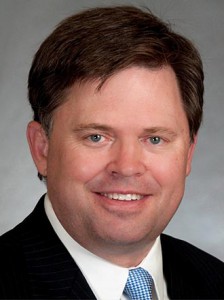 In recent years, some postal offices have been inconsistent about placing postmarks on all letters and packages toward the end of the year. He said if donors are mailing a charitable contribution that they would like to claim as a deduction on their 2014 taxes, he encourages them to personally give the sealed envelope to a postal worker and request that a postmark be applied.
"It's the postmark that determines the date of a mailed-in gift according to IRS regulations, not the date written on the check," he said. "Also, if possible, use one of the pre-addressed reply envelopes many nonprofits provide. It decreases the risk of an envelope going to the wrong place."
Donations made online are automatically given a time stamp that sets the official date of the gift. That electronic time stamp is what determines the gift's eligibility as tax-deductible in either 2014 or 2015.
For example, online credit-card donations to The Lutheran Church—Missouri Synod and its ministries and programs can be made 24 hours a day, seven days a week at givenowlcms.org until 1:50 a.m. (CST) Thursday, Jan. 1, 2015, if donors want to claim the deduction on their 2014 income tax return.
"One benefit of using a credit card to make a year-end donation is that, while deductible for 2014," Hofman said, "the donor doesn't have to use actual cash until the statement comes due in 2015."
Year-end giving is critical for many nonprofit organizations, including the Synod, which receives 40 percent of its annual income in November and December. More than a quarter of the Synod's total annual charitable-gift income comes in December alone.
"This is a very important time for the Synod and most nonprofits," Hofman said. "What happens this month with charitable gifts will affect spending decisions your favorite charities and your congregation will make in the second half of a fiscal year if … their budgeting period runs through the end of June 2015."
Hofman doesn't tell people where they "should give" since those decisions are a matter "between any donor, the donor's family and the Holy Spirit." But he does encourage people to try and take care of their home congregation first, as the Lord allows.
"Healthy LCMS congregations are a cornerstone for financially viable districts, Recognized Service Organizations, auxiliaries, colleges and seminaries and our Synod's national and international work," he said.
Beyond that, Hofman said, donors may want to focus resources on organizations they feel will best help them get done what they feel is important to them, and do the kinds of work they care about.
"A lot of appeals from Christian and non-Christian groups are going out," he said. "Rather than react to those, pick several you can focus on ahead of time. And also think about the impact the organization can have in the world with a little extra charitable support, as much if not more than just evaluating its management efficiency."
Hofman said an organization that only spends 10 percent on wise management may not be able to have the same kind of impact as an organization whose cost ratio, while a bit higher, effectively impacts people.
For some people "to be part of the Great Commission work of the Church beyond their own congregation could involve making a year-end gift to the Synod," Hofman said. "We do good work. We're getting better at doing our work largely because donors support us."
If someone asks him where the Synod can use help, Hofman said, he most often starts by suggesting a donation to the Synod's Global Mission Fund.
"Each of those donations has an immediate and meaningful impact on people through Gospel-centered witness and human-care work," he said. "Donations are restricted to only supporting the Synod's Witness, Mercy, Life Together work at home and abroad, wherever the greatest need is at the time the gift is made. We can't use and don't use those donations to do things like clean the windows at the International Center, or pay for things like the annual audit of our books.
"They do supplement more tightly restricted gifts for things such as specific missionaries, a mission project, a national mission program or a new initiative where shortfalls can appear."
Hofman also likes the Global Mission Fund because it has one of the lowest administrative costs among hundreds of other options.
He thanked all those who supported the Synod in 2014 with prayers and contributions.
"Thank you to those who are going to do it again before the end of the year and into the early days of 2015," Hofman said. "It's not that we need it as a Synod. It's that giving is illustrative of our life together under the Gospel, to proclaim the Good News of Jesus to the world. The world needs what we have freely been given — Jesus. A gift becomes part of the mission of the Church to carry the Gospel to the ends of the earth and in our own backyards where it is desperately needed."
As a final year-end giving tip, Hofman asked potential donors to view LCMS Mission Advancement as a special resource for them. "Work with us," he said. "Tell us what's on your mind and about how you want to make a difference in the world. Feel free to ask for information that will help you make God-pleasing decisions as a steward of His countless blessings. Working with us also helps us be smarter about how we relate to each donor, which ultimately lowers our fundraising costs and sends more of every dollar out into the Lord's harvest fields."
LCMS Mission Advancement offers a toll-free donor-care line: 888-930-4438. For those who prefer email, contact: mission.advancement@lcms.org. Additional information about year-end giving, including information about using appreciated or depreciated securities, can be found at lcms.org/givenow.
Melanie Ave is a staff writer with LCMS Communications.
Posted Dec. 9, 2014