Life Together is the title of the 2015-16 edition of "Chapel Talks for Lutheran Schools," which may be ordered from LCMS School Ministry in soft-cover print and downloadable PDF formats.
The booklet "provides an outline for planning weekly school chapel services that align with the appointed weekly readings of the church," explained LCMS School Ministry Director Terry L. Schmidt.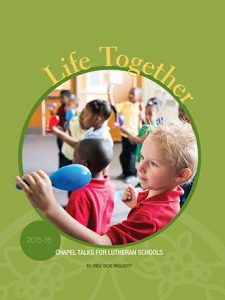 "This year," Schmidt added, "we are pleased to be able to provide this much-anticipated resource to our schools at an earlier time, to assist pastors and school worship leaders in planning for the coming school year."
As in recent years, the new edition is based on Luther's Small Catechism and has outlines for 43 weekly devotions, as well as messages for opening and closing chapels of the school year. Its editor is the Rev. Bob Riggert — a former Lutheran school teacher, principal and parish pastor who also edited the 2014-15 "Chapel Talks."
"Rev. Riggert is an accomplished teacher, principal and pastor who understands the value of sharing God's Word in a meaningful way that children can understand," said DJ Schult, assistant to the president of the LCMS North Wisconsin District. "These 'Chapel Talks' organize the school year into valuable life-together themes, intentionally connecting God's Word to how we live together each day. I can see many of our schools creating their annual school-year theme based on this well-written tool."

In addition to a message, each of the 45 devotional outlines also suggests Scripture readings, a prayer and a hymn or hymns from Lutheran Service Book and All God's People Sing, and a visual.
"Chapel Talks" may be used for devotions in various settings — school-wide, for midweek classes and Sunday schools, or for congregation or school-staff gatherings.
An introduction to the new volume notes that "the outline has been developed to be age-appropriate for an early- to mid-elementary assembly."
"The messages," it points out, "are based on the weekly appointed readings for LCMS congregations: Series B through the conclusion of the 2015 Pentecost season and Series C beginning with the Advent season and continuing through the weeks of 2016."
The soft-cover "Chapel Talks" booklet is $20 per copy and the PDF is $15. Either version may be reproduced for use only in the congregation or school of the original purchaser.
An order form for the new "Chapel Talks" will be mailed to all Lutheran schools this summer.
Each order must be accompanied by full payment, either by check (made out to "LCMS School Ministry") mailed to LCMS School Ministry — Attn: Chapel Talks, 1333 S. Kirkwood Road, St. Louis, MO 63122-7295; or by credit card (Visa or Master Card) through the LCMS Online Store.
For more information, contact Matthew Bergholt of LCMS School Ministry at 800-248-1930, ext. 1285, or by email at matthew.bergholt@lcms.org.
Order "Chapel Talks"
Posted June 5, 2015