Concordia Publishing House is now accepting orders for the fastest-selling Playmobil® figure of all time — "Little Luther," a likeness of reformer Martin Luther that's expected to be available in the United States in July.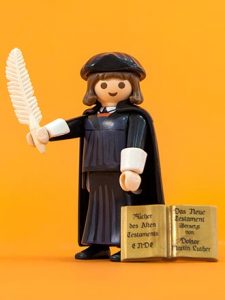 The German toy manufacturer reported earlier this year that its first edition of 34,000 pieces sold out in fewer than 72 hours — almost exclusively in Germany, which is gearing up to celebrate the 500th anniversary of the Reformation in 2017.
The 3-inch-tall children's toy features a depiction of Luther — clad in 16th-century robes and floppy cap — holding a quill pen and a copy of the New Testament, which he translated into German.
"We knew that he would be popular, but the enthusiasm we've seen for him has been incredible," said Dr. Bruce G. Kintz, CPH's president and CEO. "Thousands of preorders came in to our website with a velocity I've not seen before. If you want your own Little Luther, or are planning to give him as a gift, I'd encourage you to preorder yours soon, before they sell out."
To order Playmobil's Martin Luther figurine ($9.99, item no. 361917WEB/2015) for delivery in July, contact Concordia Publishing House at 800-325-3040 or click here. Additional shipping charges apply.
Posted June 5, 2015