In celebration of the 50th anniversary of the children's Arch® Books series, Concordia Publishing House has released Arch Books Treasury: Vintage Collection 1964-65 — which brings the 12 original Arch Books together in one volume — and three new individual Arch Books.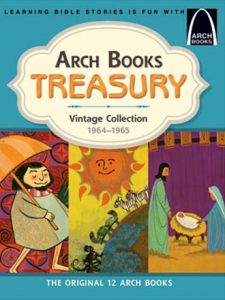 Each of the colorfully illustrated books tells a Bible story in a "child-friendly," true-to-Scripture format, according to CPH.
The new Treasury volume ($12.99, item no. 592281WEB) includes The Good Samaritan, The Boy Who Ran Away, The Great Surprise, Eight Bags of Gold, The Rich Fool, Little Benjamin and the First Christmas, Jon and the Little Lost Lamb, The Story of Noah's Ark, The Little Boat that Almost Sank, The World God Made, The Boy with a Sling and The Baby Born in a Stable.
The three newly released individual Arch Books are God Saves Jerusalem ($2.49, item no. 592279WEB), O Bethlehem ($2.49, item no. 592278WEB) and The Wedding at Cana ($2.49, item no. 592280WEB).
To order, visit cph.org/archbooks, click on individual book links above or call CPH at 800-325-3040. Prices quoted do not include shipping charges.
Posted June 12, 2015